After a few years of moderating interest, collector attention returned to United States Mint commemorative coins. In 2014, a three coin program was introduced which saw a popular subject matter and innovative design leading to multiple sell outs. In the following year, silver dollars featured President Franklin D. Roosevelt with a special product including dimes struck with different finishes.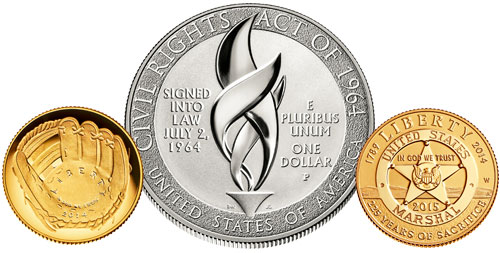 The 2014 National Baseball Hall of Fame Commemorative Coins generated significant attention from the broader public. A public competition was held to select the designs and the coins carried a unique curved shape to accentuate the designs featuring a baseball and glove. Prompt sell outs were achieved for the $5 Gold Coins and Silver Dollars of the program.
The same year, silver dollars were issued to mark the 50th anniversary of the Civil Rights Act of 1964. The uncirculated version of the coin recorded the lowest mintage for a silver dollar in more than two decades.
In the following year two programs were issued to mark the 225th anniversary of the US Marshals Service and the 75th anniversary of the March of Dimes Foundation. The first program featured three different coins with distinctive designs. For the second program, the US Mint produced special dimes for inclusion within a separately offered set.
Visit the pages below for additional information on the United States Mint's 2014-2016 commemorative coins.