The 1992 White House Silver Dollar (Buy on eBay) was released to mark the 200th anniversary of the White House. The cornerstone for the structure was originally placed on October 13, 1792. The building became the official presidential residence on November 1, 1800.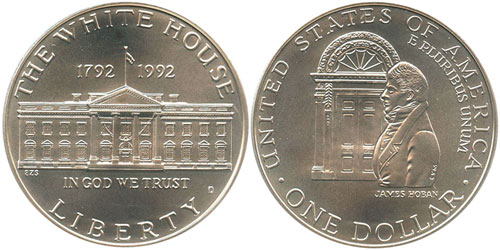 The obverse of the coin displays a view of the north portico of the White House. Inscriptions include "The White House", the bicentennial dates "1792" and "1992", "In God We Trust", and "Liberty". The obverse was designed by Edgar Z. Steever IV.
On the reverse of the coin is the bust of James Hoban, the architect of the White House. He stands before the original main entrance of the building. Inscriptions read "United States of America", "E Pluribus Unum", "One Dollar", and "James Hoban". The reverse was designed by Chester Y. Martin.
The maximum authorized mintage for the White House Silver Dollar was set at 500,000 coins. This represented the lowest level established to date for a modern commemorative silver dollar, a fact that was highlighted within promotional materials. The coins were available in proof version struck at the West Point Mint and uncirculated version struck at the Denver Mint.
A complete sell out of the maximum authorized mintage was achieved, and the relatively low mintages drove prices higher on the secondary market. At their peak, prices had risen to four times the issue price. Prices eventually fell as the excitement faded and subsequent issues had lower mintage levels. For present day collectors, the 1992 White House Silver Dollars are priced primarily based on the silver content.
Surcharges raised from the sale of coins were paid to the White House Endowment Fund and used to support the White House collection of fine art and furnishings as well as for the maintenance of the public rooms.
Coin Specifications
Designer: Edgar Z Steever IV (obverse), Chester Y. Martin (reverse)
Weight: 26.7300 g
Composition: 90% Silver (0.7736 ounces of silver)
Diameter: 38.1 mm
Maximum Authorized Mintage: 500,000
1992-D Uncirculated White House Silver Dollar
Pre-Issue Price: $28.00
Regular Price: $32.00
Final Mintage: 123,803
1992-P Proof White House Silver Dollar
Pre-Issue Price: $23.00
Regular Price: $28.00
Final Mintage: 375,851