The 1991 Mount Rushmore $5 Gold Coin (Buy on eBay) was issued as part of a program authorized to celebrate the 50th anniversary of the Mount Rushmore National Monument. Along with the gold coin, commemorative silver dollars and half dollars were also issued.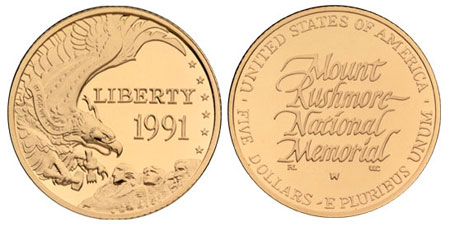 While the other two coins contain prominent depictions of the monument, the obverse of the gold coin is dominated by the image of a bald eagle in flight. The eagles claws hold a chisel and a mallet for sculpting and a ribbon in its peak includes the words "In God We Trust". At the lower right side of the coin, a small view of Mount Rushmore appears. The inscriptions "Liberty", "1991", and an arrangement of six stars completes the obverse design by John Mercanti.
The reverse of the coin is entirely designed in lettering, representing the first such design in the history of United States commemorative coins. Centrally, the words "Mount Rushmore National Memorial" appear in calligraphy. Around the outer rim, the remaining inscriptions are placed "United States of America", "Five Dollars", and "E Pluribus Unum". The reverse was modeled by William Cousins and designed by William Lamb, a calligraphic artist.
Proof and uncirculated versions of the Mount Rushmore $5 Gold Coin were available, struck at the West Point Mint. The coins were offered individually or as part of a three coin set in uncirculated or proof or a six coin set. The final sales of 111,911 proofs and 31,959 uncirculated coins were low when compared to the maximum authorized mintage of 500,000.
Coin Specifications
Designer: John Mercanti (obverse), William Lamb (reverse)
Weight: 8.3590 g
Composition: 90% gold (0.242 ounces of gold)
Diameter: 21.6 mm
Maximum Authorized Mintage: 500,000
1991-W Uncirculated Mount Rushmore $5 Gold
Pre-Issue Price: $185.00
Regular Price: $210.00
Final Mintage: 31,959
1991-W Proof Mount Rushmore $5 Gold
Pre-Issue Price: $195.00
Regular Price: $225.00
Final Mintage: 111,991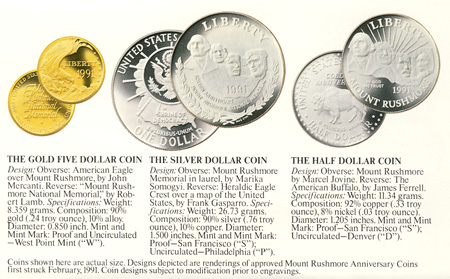 Other 1991 Mount Rushmore Commemorative Coins
1991 Mount Rushmore Half Dollar
1991 Mount Rushmore Silver Dollar