Along with a $5 gold coin, the 2007 Jamestown Silver Dollar (Buy on eBay) was issued to mark the 400th anniversary of the settlement at Jamestown, Virginia. Three ships, the Susan Constant, Godspeed, and Discovery carried 105 settlers to the New World to establish the first permanent English settlement in what would become America.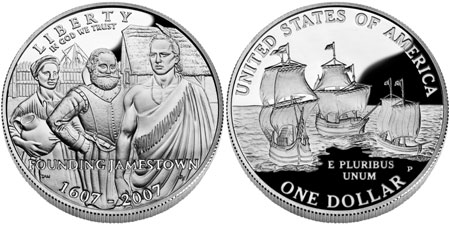 The obverse of the silver dollar presents three faces of diversity, to represent the three cultures that came together at Jamestown. The inscriptions read "Liberty", "In God We Trust", "Founding Jamestown", and the anniversary dates "1607 – 2007". The reverse features an image of the Susan Constant, Godspeed, and Discovery with inscriptions "United States of America", "E Pluribus Unum", and "One Dollar". The obverse was designed by Donna Weaver and sculpted by Don Everhart. The reverse was designed by Susan Gamble and sculpted by Charles Vickers.
The 400th anniversary of Jamestown had also been the subject of the Virginia State Quarter, released in 2000. The quarter also featured an image of the three ships that bought the settlers to Jamestown and carried the dual date of the anniversary.
The Jamestown Silver Dollars went on sale at the United States Mint on January 7, 2007. Individual proof and uncirculated versions of the coin were offered, with both produced at the Philadelphia Mint. Later in the year, the US Mint offered the 2007 American Legacy Set, which included a proof version of the Jamestown Silver Dollar.
Coin Specifications
Designer: Donna Weaver (obverse), Susan Gamble (reverse)
Weight: 26.7300 g
Composition: 90% Silver (0.7736 ounces of silver)
Diameter: 38.1 mm
Maximum Authorized Mintage: 500,000
2007-P Uncirculated Jamestown Silver Dollar
Pre-Issue Price: $33.00
Regular Price: $35.00
Final Mintage: 81,034
2007-P Proof Jamestown Silver Dollar
Pre-Issue Price:$35.00
Regular Price: $39.00
Final Mintage: 260,363
Other 2007 Jamestown Commemorative Coins