The obverse design of this coin features a portrait of Boys Town founder Father Flanagan, while the reverse depicts an outstretched hand holding a young oak tree growing from an acorn, which represents the potential every child has to become a productive adult with the help that Boys Town provides.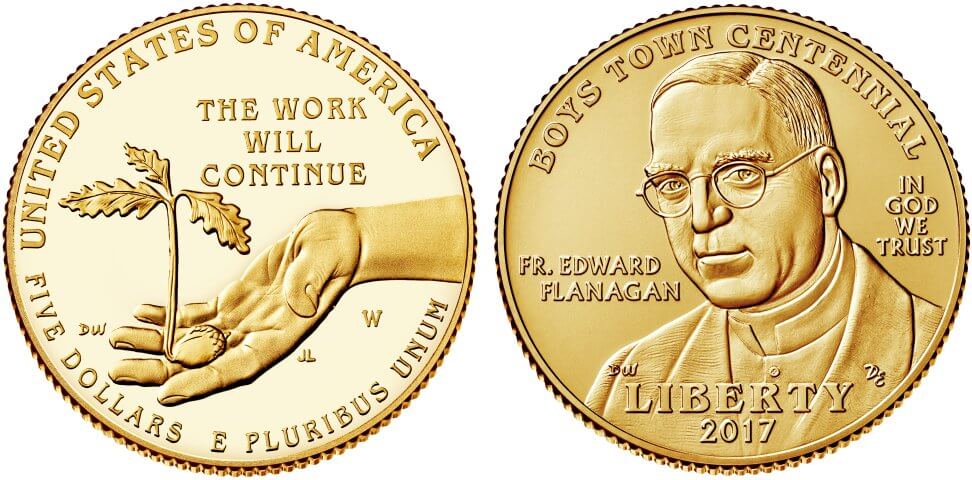 This obverse was designed by Artistic Infusion Program artist Donna Weaver and sculpted by then sculptor-engraver, Don Everhart.
The reverse was also designed by Donna Weaver and sculpted by Jim Licaretz.
West Point Mint Struck Proof and Uncirculated Versions
Both the uncirculated (Buy on eBay) and Proof versions (Buy on eBay) were struck at the West Point Mint, and each coin included a $35 surcharge that went to Boys Town once all costs were covered to produce and market the coin.
The price of each version of this coin fluctuated weekly based on gold prices. When sales of the coin ended, the mint state piece was priced at $412.50 and the Proof at $417.60.
When sales opened for the $5 gold coin of the Boys Town centennial program on March 9, 2017, the uncirculated version sold 854 coins and the Proof 653 as well as 2,255 of the three-coin set that included the Proof coin.
Sales for the first week for the uncirculated coin reached 1,054, and by November 5 were just 2,252. The Mint was believed to have struck a batch of 3,000 coins that based on the number of coins sold through this point should have been enough to last until sales had to end, which was December 31.
But by this time people had noticed how low the number was for the mint state coin, which was set to easily overtake the 1997 Jackie Robinson uncirculated gold coin (mintage 5,167) as the lowest mintage $5 gold commemorative. That pushed sales up to 2,999 by December 10, which was followed by some orders that were cancelled that left the final mintage at 2,947 when the coin sold-out about December 8 instead of being available to year's end. This created an immediate secondary market premium for the coin.
Coin Specifications
Designer: Donna Weaver
Weight: 8.3590 grams
Composition: 90% gold, 10% copper
Diameter: 21.6 mm
Maximum mintage: 50,000
2017-W Uncirculated Boys Town $5 Gold
Original price: varied
Final mintage: 2,947
2017-W Proof Boys Town $5 Gold Coin:
Original price: varied
Final mintage: 7,337