The 1991-1995 World War II $5 Gold Coin (Buy on eBay) was issued to mark the 50th anniversary of America's involvement in World War II from 1941 to 1945. Also included in the program were a clad half dollar and silver dollar. The surcharges raised from the sale of coins were intended to be used for the World War II Monument in Washington DC and a D-Day Monument in France, which was never constructed.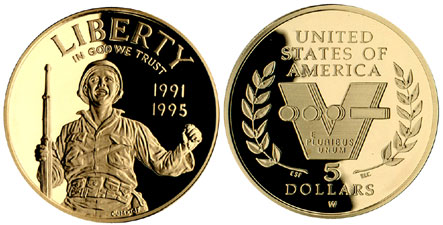 The obverse of the $5 Gold Coin depicts an American solider with his rifle and arm raised in victory. The reverse of the coin features "V" for "Victory", which is also shown in Morse Code, bordered by branches. The obverse was designed by Charles J. Madsen and the reverse was designed by Edward Southworth Fisher.
The obverse inscriptions read "Liberty", "In God We Trust", and the dual date "1991" and "1995". The reverse inscriptions include "United States of America", "E Pluribus Unum", and the denomination "5 Dollars".
The 1993 World War II $5 Gold Coins were sold individually in proof or uncirculated versions. Both coins were struck at the West Point Mint with a maximum authorized mintage of 300,000 coins. The coins were also included in three coin or six coin sets, which included other issues of the World War II Commemorative Coin Program. Initially the coins were available at pre-issue discount prices.
Coin Specifications
Designer: Charles J. Madsen (obverse), Edward Southworth Fisher (reverse)
Weight: 8.3590 g
Composition: 90% gold (0.242 ounces of gold)
Diameter: 21.6 mm
Maximum Authorized Mintage: 300,000
1991-1995 (1993-W) Uncirculated World War II $5 Gold Coin
Pre-Issue Price: $170.00
Regular Price: $200.00
Final Mintage: 23,672
1991-1995 (1993-W) Proof World War II $5 Gold Coin
Pre-Issue Price: $185.00
Regular Price: $220.00
Final Mintage: 67,026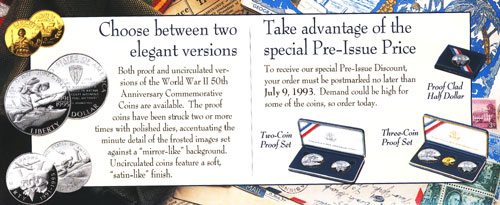 Other 1993 World War II Commemorative Coins
1993 World War II Half Dollar
1993 World War II Silver Dollar