The National Purple Heart Hall of Honor Commemorative Coin Act, signed into law by President Trump on December 22, 2020, was enacted to honor the National Purple Heart Hall of Honor in New York state, which was established in 2006 to honor the 1.8 million American service members killed or wounded in action since the Civil War. It does that by maintaining the Roll of Honor, an interactive database about each recipient of the Purple Heart medal, and other exhibits.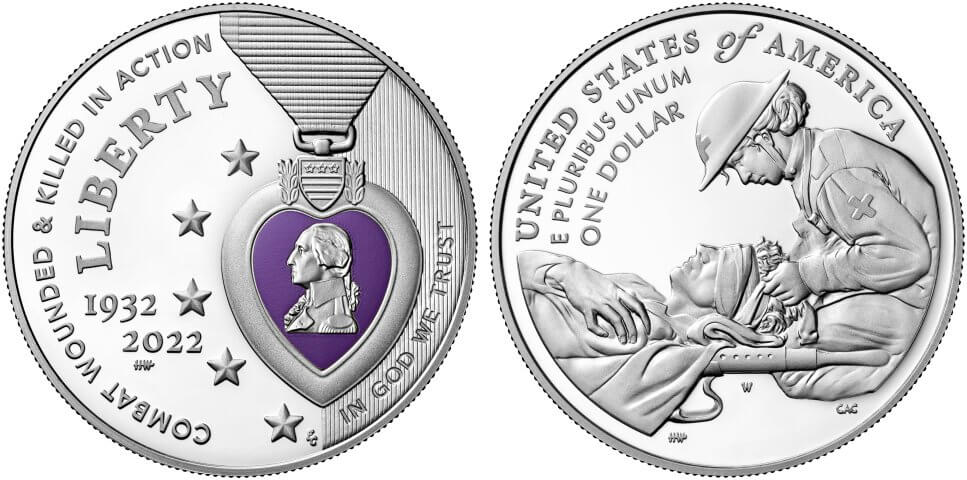 The modern Purple Heart was first given on May 8, 1932 to 136 veterans wounded during World War I and is bestowed by whoever is the American President at the time it is awarded. The award was also a successor to the Badge of Military Merit, which was bestowed by President George Washington for commendable actions by enlisted men and non-commissioned officers.
The commemorative coin program includes a $5 gold coin, silver dollar and half dollar – each with its own original design. But each of them incorporates an image of the Purple Heart medal itself, which was designed by John Sinnock, former chief engraver at the U.S. Mint, and features a left-facing bust of Washington against a purple background.
The silver dollar that is part of the 2022 National Purple heart Hall of Honor commemorative coin program has an obverse that features a similar motif as the $5 gold coin, showing a Purple Heart medal hanging from a ribbon, which has five stars to its left on this coin. The reverse features an image of a wounded soldier from World War I attended to by a nurse in a helmet who is applying bandages to his head.
Both sides of the coin were designed by noted sculptor and coin designer Heidi Wastweet, while the obverse was sculpted by Eric David Custer, and the reverse was sculpted by Craig Campbell.
These coins went on sale on February 24, 2022 with initial pricing of $69 for the uncirculated piece (Buy on eBay) and $74 for the Proof (Buy on eBay), which were both increased by $5 on March 24.
The Proof was also sold in the 2022 National Purple Heart Hall of Honor three-coin set. In addition, a special, partially colorized version of the Proof was offered as well in which the background of the medal is purple as it is on actual medals. That coin was priced at $95 and limited to 25,000 coins. It was sold out by the end of March.
As of June 12, cumulative sales were 12,153 for the uncirculated coins, 39,156 for the Proof plus 4,178 Proofs in the set and 24,953 for the color silver dollar. The coins were expected to begin shipping in late June.
Coin Specifications
Designer: Matt Swaim (obverse), Don Everhart (reverse)
Weight: 26.73 grams
Composition: 0.999 fine silver
Diameter: 38.1 mm (1.5 inches)
Maximum authorized mintage: 400,000
2022-W Uncirculated National Purple Heart Hall of Honor Silver Dollar
Pre-issue price: $69.00
Regular price: $74.00
Final mintage: TBD
2022-W Proof National Purple Heart Hall of Honor Silver Dollar
Pre-issue price: $74.00
Regular price: $79.00
Final mintage: TBD
2022-W National Purple Heart Hall of Honor Colorized Silver Dollar
Price: $95.00
Final Mintage: TBD