In 2011, the US Mint issued commemorative coins to recognize and celebrate the establishment of the United States Army. The 2011 U.S. Army $5 Gold Coin (Buy on eBay) was be one of three different coins included in the program.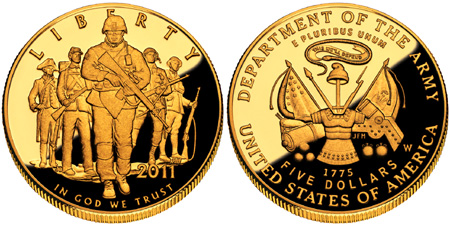 The final design selections for each of the coins was unveiled on December 11, 2010 during the Army/Navy football game played in Philadelphia. The $5 gold coin is intended to represent the Army's service in war. On the obverse is an image of five soldiers from different eras, representing the Revolutionary War, Civil War, World War I, World War II, and the modern era. The inscriptions include "Liberty", "In God We Trust", and the date "2011".
The reverse design depicts the U.S. Army emblem, which incorporates the motto "This We'll Defend". The additional inscriptions surrounding the emblem are "Department of the Army", "E Pluribus Unum", "1775", "Five Dollars", and "United States of America".
Sales of the 2011 Army $5 Gold Commemorative Coins began on January 31, 2011. The offerings included an individual proof version of the coin struck at the West Point Mint and an individual uncirculated version struck at the Philadelphia Mint. The US Mint did not offer any multi-coin sets or incorporate the coin into any other collector products.
For the start of sales pricing was established at $439.95 for the uncirculated version and $449.95 for the proof version. After an introductory period, these prices were increased by $5 each. In the summer months a sharp rise in the price of gold briefly resulted in the coins selling for close to melt value. The US Mint responded by suspending sales and implementing a new pricing system whereby prices could be adjusted weekly based on the average market price of gold.
All prices incorporated a surcharge of $35 per coin which was payable to the Army Historical Foundation to support construction of the National Museum of the United States Army.
A maximum authorized mintage of 100,000 coins across both versions was established under the authorizing legislation. Final sales eventually reached 17,148 proofs and 8,052 uncirculated coins. This placed the uncirculated versions amongst the lowest mintage modern commemorative gold coins.
Coin Specifications
Designer: Joel Iskowitz (obverse), Joseph Menna (reverse engraver)
Weight: 8.3590 g
Composition: 90% gold (0.242 ounces of gold)
Diameter: 21.6 mm
Maximum Authorized Mintage: 100,000
2011-P Uncirculated Army $5 Gold Coin
Pre-Issue Price: $439.95
Regular Price: $444.95
Final Mintage: 8,052
2011-W Proof Army $5 Gold Coin
Pre-Issue Price: $449.95
Regular Price: $454.95
Final Mintage: 17,148
Other 2011 Army Commemorative Coins