The second commemorative coin program in 2019 authorized by Public Law 115-6 was issued to mark the centennial of the founding of the American Legion on March 15, 1919 in Paris, France, which was established out of a concern about the welfare of American soldiers deployed to Europe who were returning home.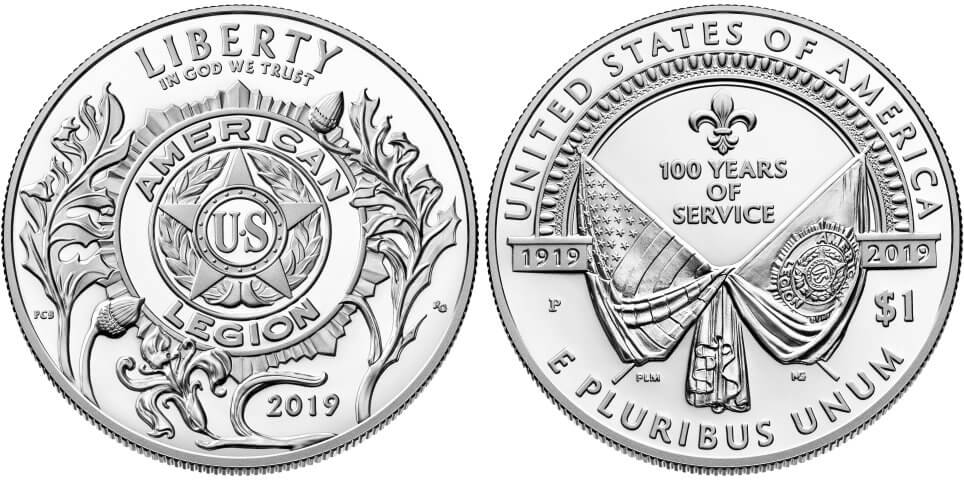 The American Legion, which with over 2 million members is the nation's largest veterans group, is focused on what it calls the Four Pillars: Veterans Affairs and Rehabilitation, Children and Youth, National Security and Americanism. It was instrumental in passage of the GI Bill in 1944 and has been a major source of social change.
Unlike many other 3-coin programs, each of the three American Legion coins features a different design
Designed by Paul Balan and sculpted by Renata Gordon, the obverse design for the silver dollar depicts the American Legion emblem of a 5-pointed star with "US" in the middle adorned by oak leave and a lily.
The reverse designed by Patricia Lucas-Morris and sculpted by Michael Gaudioso is intended to symbolize the founding of the organization with crossed American and American Legion flags that have a fleur de lis above them. A fleur de lis is a decorative symbol from French heraldry that is often used to represent France such as on the flag of New Orleans.
Each uncirculated and Proof silver dollar – both struck at the Philadelphia Mint – included a $10 surcharge whose proceeds were payable to the American Legion.
Priced at $51.95 for the mint state piece and $54.95 for the Proof, sales began on March 20, 2019, and the introductory prices increased by $5 after April 15.
Final sales were 13,788 for the uncirculated (Buy on eBay) and 44,017 for the Proof (Buy on eBay). The Proof was also included a three-coin Proof set along with the $5 gold and half dollar in Proof. That set had final sales of 7,451.
In addition, the Proof coin was also included in an American Legion coin and medal set and in an American Legion emblem print set. Sales for those products were 9,888 and 1,788 respectively.
Coin specifications:
Designer: Paul Balan (obverse), Patricia Lucas-Morris (reverse
Weight: 26.73 grams
Composition: 0.999% fine silver
Diameter: 38.1 mm (1.5 inches)
Maximum authorized mintage: 400,000
2019-P Uncirculated American Legion 100th Anniversary Silver Dollar
Pre-issue price: $51.95
Regular price: $56.95
Final mintage: 13,788
2019-P Proof American Legion 100th Anniversary Silver Dollar
Pre-issue price: $54.95
Regular price: $54.95
Final mintage: 63,144*
*Includes coins also sold in the American Legion 3-coin Proof set, the coin and medal set and the emblem print set