The large number of different commemorative coins issued in the prior two years resulted in modifications to prevent similar situations in the future. With the exception of programs that had already been approved, Congress could only approve two different programs for any particular year. While this might result in missing certain objects of commemoration, it would keep the number of coins issued per year reasonable and prevent abuses.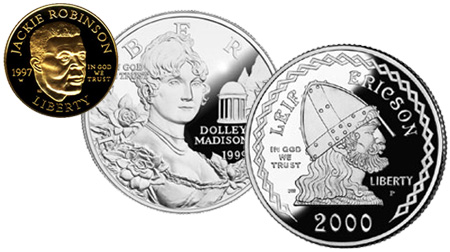 Despite the modifications, some programs from 1997 to 2000 still suffered from weak sales. The Jackie Robinson $5 gold uncirculated coin is notable for having one of the lowest mintages of any modern commemorative coin, only 5,174 coins. Several silver dollars of this era also have low mintages, which create secondary market premiums for the coins.
Programs honored Franklin D. Roosevelt, Black Revolutionary War Patriots, Robert F. Kennedy, Dolley Madison, Yellowstone National Park, the Library of Congress, and Leif Ericson. The Dolley Madison Silver Dollar is noted for being designed by Tiffany & Co. The Library of Congress program included the first bimetallic coin issued by the United States Mint.
Visit the pages listed below for additional information on all of the 1997-2000 commemorative coins.