In 2014, the United States Mint launched one of their most popular commemorative coin programs in recent history. The program, which honored the National Baseball Hall of Fame, included three coins sharing a common design and innovative domed shape.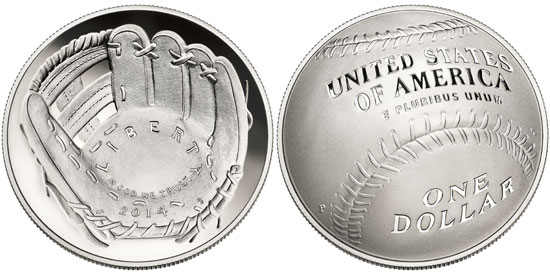 Some of the unique aspects of the program were specified within the authorizing legislation for the program, which required a public competition to determine the obverse design and called for a unique domed shape so as to resemble the shape of a baseball. The public competition would receive a total of 178 design submissions with the finalist designs selected by a panel of National Baseball Hall of Fame members.
The selected obverse design for the 2014 Baseball Hall of Fame Silver Dollar (Buy on eBay), as well as the other two coins in the program, was created by Cassie McFarland of San Luis Obispo, California. The design featured a depiction of an open baseball glove, which was complimentary to the concave shape of the obverse surface of the coin. The inscriptions in the palm of the glove read "Liberty", "In God We Trust", and "2014".
The reverse design, which was created through the typical design selection process, features the image of a baseball, complimentary to the convex shape of the reverse surface. The inscriptions read "United States of America", "E Pluribus Unum", and "One Dollar".
The silver dollars were struck in a composition of 90% silver and 10% copper, with a diameter of 1.500 inches, height of 0.243 inch, and weight of 26.73 grams. Proof and uncirculated versions were struck at the Philadelphia Mint with an overall maximum mintage of 400,000 pieces.
Sales opened for the Baseball Silver Dollars on March 27, 2014. The silver dollars were priced at $47.95 for the uncirculated version and $52.95 for the proof version. These prices reflected an introductory period discount. Regular prices were $51.95 for the uncirculated and $56.95 for the proof version. An initial ordering limit of 100 coins per version per household was imposed.
Opening sales levels were extremely strong with one-day sales reaching 108,164 proofs and 48,511 uncirculated coins, accounting for nearly 40% of the maximum authorized mintage. After less than two weeks of sales, orders had been placed for the entire 400,000 maximum authorized mintage. The United States Mint continued to accept orders on a waiting list basis, before a sell out was later declared.
In mid-December, the Mint unexpectedly resumed accepting orders for the Baseball Silver Dollars. Additional coins were made available for sale as the result of orders placed by customers which had been cancelled due to payment issues. The small quantity of available coins quickly sold out.
The final mintage for the 2014 Baseball Hall of Fame Silver Dollar was 131,924 for the uncirculated version and 268,076 for the proof version.
Coin Specifications
Designer: Cassie McFarland (obverse), Don Everhart (reverse)
Weight: 26.73 g
Composition: 90% Silver (0.7736 ounces of silver)
Diameter: 38.1 mm
Maximum Authorized Mintage: 400,000
2014-P Uncirculated Baseball Hall of Fame Silver Dollar
Pre-Issue Price: $47.95
Regular Price: $51.95
Final Mintage: 131,924
2014-P Proof Baseball Hall of Fame Silver Dollar
Pre-Issue Price: $52.95
Regular Price: $56.95
Final Mintage: 268,076
Other 2014 Baseball Commemorative Coins