The 2003 First Flight $10 Gold Coin (Buy on eBay) was issued to commemorate the 100th anniversary of the historic first manned powered flight by Orville and Wilbur Wright, which took place on December 17, 2003. Besides the bimetallic $10 gold coin issued a few years ago, this was the first $10 gold commemorative coin issued by the United States Mint since 1984.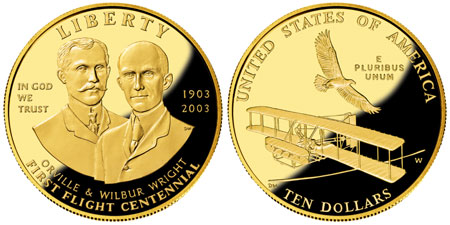 The obverse of the coin features a portrait of Orville and Wilbur Wright. The surrounding inscriptions read "Liberty", "In God We Trust", the centennial dates "1903 2003", "Orville & Wilbur Wright", and "First Flight Centennial". The obverse was designed by Donna Weaver.
The reverse features the Wright 1903 Flyer with an eagle in flight above. Inscriptions include "United States of America", "E Pluribus Unum", and "Ten Dollars". This was designed by Norman E. Nemeth.
The 2003 First Flight Gold Coins were produced at the West point Mint and offered for sale individually. The maximum authorized mintage was 100,000. The coins went on sale August 1, 2003 and were initially available at pre-issue discount prices. Regular pricing later went into effect. Sales for all commemorative coins of this program ended on July 31, 2004.
Coin Specifications
Designer: Donna Weaver (obverse), Norman E. Nemeth (reverse)
Weight: 16.7180 g
Composition: 90% Gold (0.4837 ounces of gold)
Diameter: 27 mm
Maximum Authorized Mintage: 100,000
2003-W Uncirculated First Flight $10 Gold Coin
Pre-Issue Price: $340.00
Regular Price: $365.00
Final Mintage: 10,009
2003-W Proof First Flight $10 Gold Coin
Pre-Issue Price: $350.00
Regular Price: $375.00
Final Mintage: 21,676