The 1998 Black Revolutionary War Patriots Silver Dollar (Buy on eBay) was issued to mark the 275th anniversary of the birth of Crispus Attucks. He was the first patriot killed during the Boston Massacre in 1770, one of the events leading up to the Revolutionary War. A portion of the surcharges would go towards a Black Patriots Memorial in Washington DC.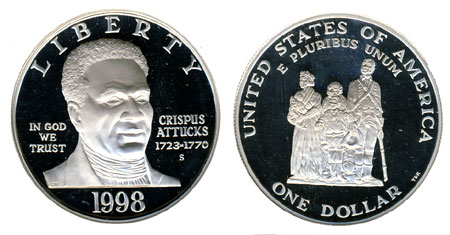 The obverse of the coin features a depiction of Crispus Attucks by John Mercanti. Notably, no likeness of Crispus Attucks actually survives, so the image represents what he may have looked like. The obverse inscriptions include "Liberty", "In God We Trust", "Crispus Attucks", "1723-1770", and the date of issue "1998".
The reverse of the silver dollar presents a detail from the proposed Black Patriots Memorial. The bronze sculpture was designed by Ed Dwight, who is also given credit for the coin design. A Black Patriot family is depicted with inscriptions "United States of America", "E Pluribus Unum", and "One Dollar".
The Black Revolutionary War Patriots Silver Dollar was minted at the San Francisco Mint, with proof and uncirculated coins available. The coins were sold individually or as part of a Black Patriots Coin & Stamp Set. This set was packaged with four stamps featuring Frederick Douglas, Benjamin Banneker, Salem Poor, and Harriet Tubman. Of the authorized mintage of 500,000 silver dollars, a combined 112,280 coins were sold during the sales period from February 13, 1998 to December 31, 1998. Similar to other situations, this low mintage translated into higher secondary market prices for the issue.
Coin Specifications
Designer: John Mercanti (obverse), Ed Dwight (reverse)
Weight: 26.7300 g
Composition: 90% Silver (0.7736 ounces of silver)
Diameter: 38.1 mm
Maximum Authorized Mintage: 500,000
1998-S Uncirculated Black Revolutionary War Patriots Silver Dollar
Pre-Issue Price: $30.00
Regular Price: $32.00
Final Mintage: 28,575
1998-S Proof Black Revolutionary War Patriots Silver Dollar
Pre-Issue Price:$33.00
Regular Price: $37.00
Final Mintage: 110,428