Collectors had been eagerly anticipating the Apollo 11 50th anniversary coin program from the time it was first discussed in the press several years earlier, and no other coin was as anticipated as the 5-ounce Proof silver coin, which was given a $1 denomination like the regular silver dollars. The coin was the very first curved 5-ounce silver coin from the U.S. Mint and the first Proof 5-ounce silver coin. (Buy on eBay)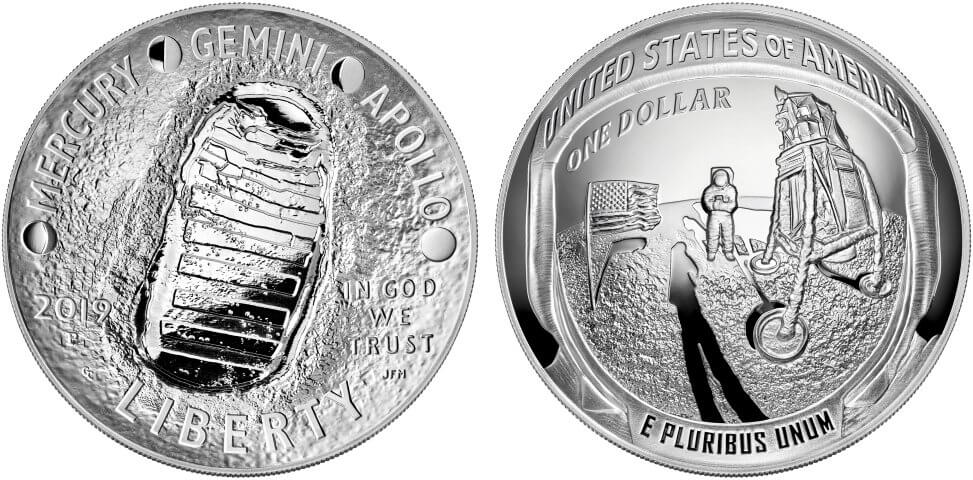 Sales were launched on January 24, 2019 at the Mint's website and retail locations and at a launch event held at the Kennedy Space Center in Cape Canaveral. Demand was so strong out of the gate that many collectors experienced issues completing their orders.
As for the 5-ounce piece, it was priced initially at $224.95 and within 9 minutes it became unavailable. The Mint had been unable to produce as many coins as it wanted to as a result of issues that were encountered during the production process that required time-consuming, hand re-tooling to correct. As a result, the coin quickly sold out of the available supply and went into extended backorder. Had more coins been available early on, it is quite likely the coin would have sold out of its maximum authorized mintage of 100,000 coins.
First day sales were 51,271, but only some portion of those coins, possibly around 30,000, were on hand at the time they were ordered with the others backordered until May 1 or later.
Altogether 300,000 of the various Apollo 11 numismatic products (Buy on eBay) were purchased on the first day, which was 50% of the 600,000 coins sold – a clear sign of how strong the demand was for these issues.
A surcharge of $50 was included in the price of this coin, which after February 25 was raised to $229.95.
Final sales were 68,259.
Coin specifications:
Designer: Gary Cooper (obverse), Phebe Hemphill (reverse)
Weight: 155.517 grams
Composition: 0.999 fine silver
Diameter: 3 inches (76.2 mm)
Maximum authorized mintage: 100,000
2019-P Apollo 11 $1 Five Ounce Proof Silver Coin
Pre-issue price: $224.95
Regular price: $229.95
Final Mintage: 68,259