The United States Mint issued gold and silver coins to commemorate the life and legacy of Mark Twain. Born Samuel Langhorne Clemens, the author and humorist is world renowned for works including The Adventures of Tom Sawyer and Adventures of Huckleberry Finn. The author was previously honored on one of the American Arts Gold Medallions struck by the US Mint in 1981. There had been multiple attempts to pass legislation honoring the author on a commemorative coin as early as 2010. Public Law 112-201 would finally authorize the program for issuance in 2016.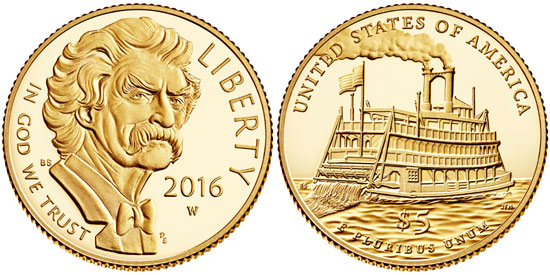 The Mark Twain $5 Gold Coin (Buy on eBay) features a portrait of the author on the obverse with his trademark bushy white hair and mustache. The inscriptions read "Liberty", "In God We Trust", and "2016". The reverse design of the coin features the image of a steamboat with the paddlewheel visible. This image harkens back to the author's experience as a riverboat pilot, which would serve as useful source material for some of his later works. The inscriptions read "United States of America", "E Pluribus Unum", and "$5".
Both proof and uncirculated versions of the coin went on sale January 14, 2016. Notably, the silver dollars within the same commemorative coin program went on sale more than two weeks later on February 1, 2016. As with other recent precious metal products, the Mark Twain Gold Coins were subject to variable pricing which could be updated weekly based on the average market price of gold.
Across both options, a maximum mintage of 100,000 pieces was specified by the authorizing legislation. Final sales would tally 13,266 proofs and 5,693 uncirculated pieces, reflecting the decreased demand for commemorative coinage seen in recent years.
The cost of each gold coin included a $35 surcharge, which was distributable to four different organizations related to Mark Twain. These organizations included the Mark Twain House and Museum, the University of California, Elmira College, and the Mark Twain Boyhood Home and Museum.
Coin Specifications
Designer: Benjamin Sowards (obverse), Ronald D. Sanders (reverse)
Weight: 8.3590 g
Composition: 90% gold (0.242 ounces of gold)
Diameter: 21.6 mm
Maximum Authorized Mintage: 100,000
2016-W Uncirculated Mark Twain $5 Gold Coin
Original Price: variable
Final Mintage: 5,693
2016-W Proof Mark Twain $5 Gold Coin
Original Price: variable
Final Mintage: 13,266
Other 2016 Mark Twain Commemorative Coins