The 1996 Olympic Swimming Half Dollar (Buy on eBay) continued the expansive commemorative coin program for the XXVI Olympiad Games held in Atlanta, Georgia. The program included a total of 16 different coins issued over the course of two years.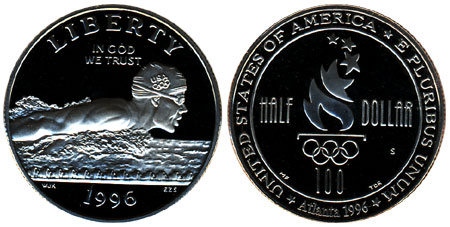 The obverse design of the Swimming Half Dollar was designed by William Krawczewicz. The inscriptions include "Liberty" and "In God We Trust" above the swimmer, and the date "1995" below the swimmer.
The reverse features the Olympic Flame, Olympics logo, and "100" arranged in the form of a torch. The year marked the 100th anniversary of the first modern Olympic Games. The inscriptions around the edge read "United States of America", "E Pluribus Unum", and "Atlanta 1996". The denomination appears in the cent. This was designed by Malcolm Frey and used for both 1996 Olympic Half Dollar coins.
The 1996 Swimming Half Dollar was offered in both proof and uncirculated versions minted at San Francisco. The coins had a maximum mintage of 3,000,000 coins, which was an increase from the level set for the prior year's Olympic halves. Ultimately, the Swimming Half Dollar sold significantly fewer coins than the year before. As often the case for commemoratives of the era, this lower mintage ultimately made the coins more valuable.
Coin Specifications
Designer: William Krawczewicz (obverse), Malcolm Frey (reverse)
Weight: 11.3400 g
Composition: 91.67% copper, 8.33% nickel
Diameter: 30.61 mm
Maximum Authorized Mintage: 3,000,000
1996-S Uncirculated Swimming Half Dollar
Pre-Issue Price: $10.50
Regular Price: $11.50
Final Mintage: 49,533
1996-S Proof Swimming Half Dollar
Pre-Issue Price: $11.50
Regular Price: $12.50
Final Mintage: 114,315