The 1995 Olympic Track and Field Silver Dollar (Buy on eBay) was issued as part of a comprehensive sixteen coin program to commemorate the 1996 Olympic Games held in Atlanta, Georgia. The program included eight silver dollar, four clad half dollars, and four $5 gold coins issued over the course of two years.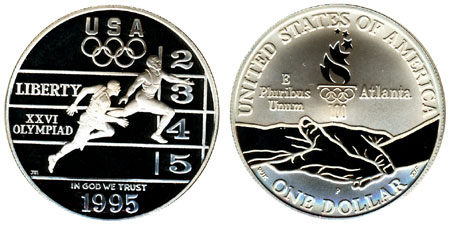 The obverse of the Track and Field Silver Dollar features two sprinters running towards the finish line. The lanes of the track 2,3,4,5 are visible along with inscriptions "Liberty", "XXVI Olympiad", "In God We Trust", "1995" and the USA Olympics logo. This was designed by John Mercanti of the United States Mint.
The reverse design features two hands clasped beneath the Olympic torch. This is intended to represent the brotherhood and team spirit of the Olympic Games. The inscriptions read "United States of America", "E Pluribus Unum", "Atlanta" and "One Dollar". The reverse was designed by William Krawczewicz and modeled by T. James Ferrell.
The 1995 Track and Field Silver Dollar had a maximum authorized mintage of 750,000 coins across both proof and uncirculated versions. The proof coins were minted in Philadelphia and the uncirculated coins were minted at Denver. The coins were initially available for pre-issue discount prices individually or in multi-coin sets. After a specified period, regular pricing went into effect. Although the coins were a far way from reaching the maximum, the low sales had a later benefit in yielding low final mintages.
Coin Specifications
Designer: John Mercanti (obverse), William Krawczewicz (reverse)
Weight: 26.7300 g
Composition: 90% Silver (0.7736 ounces of silver)
Diameter: 38.1 mm
Maximum Authorized Mintage: 750,000
1995-D Uncirculated Track and Field Silver Dollar
Pre-Issue Price: $27.95
Regular Price: $31.95
Final Mintage: 24,976
1995-P Proof Track and Field Silver Dollar
Pre-Issue Price: $30.95
Regular Price: $34.95
Final Mintage: 136,935