The Basketball Hall of Fame Half Dollar (Buy on eBay) was issued in four different versions. In addition to the standard uncirculated and Proof coins, there was a colorized Proof and an enhanced uncirculated – the later only being available in the Basketball Hall of fame kids set.
Each half dollar had a $5 surcharge that went to the Basketball Hall of Fame to help fund its programs.
The uncirculated coin was offered for $37.00 from June 4 until July 6, and the Proof for $39. Both prices went up $5 after that.
Initial sales were 9,709 and 18,312 respectively, while final sales were 13,639 and 26,584.
Both special versions, the color and enhanced coins, were limited to a mintage of 75,000. The color Proof was priced at $55, and the kids set at $45.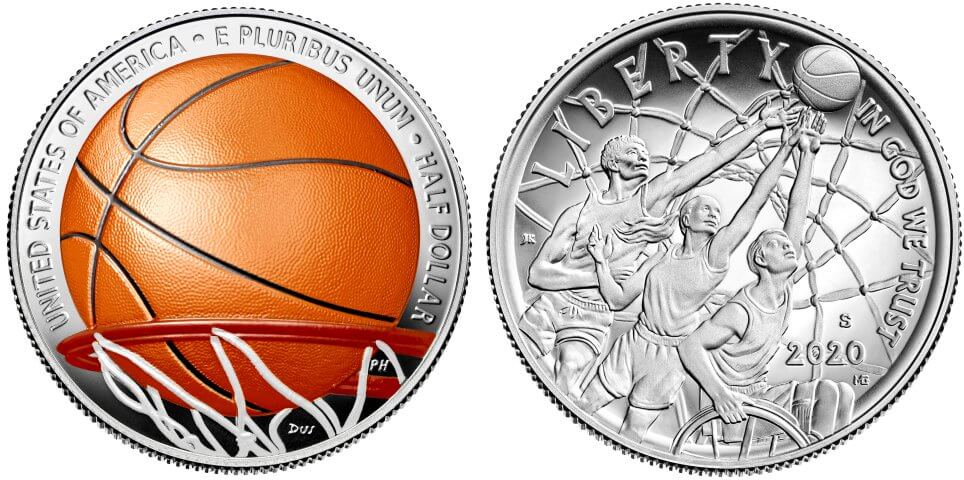 The colorized Proof half dollar (Buy on eBay), which features the reverse with the basketball in orange with black ribs and a red net rim, was much popular than the colorized Proof silver dollar – both of which were the very first U.S. coins ever issued with color applied to the design. Collectors said they preferred the half because it had more color on it.
The color application for both coins was done after the striking by an outside contractor. Those coins were offered starting August 28 like the colorized dollar. The half dollar had final sales of 32,614.
The kids set was available on June 4 when the program was launched and had initial sales of 20,280 and final sales of 22,565.
Coin Specifications
Designer: Justin Kunz (obverse), Donna Weaver (reverse)
Weight: 11.340 grams
Composition: 9.33% nickel, 90.67% copper
Diameter: 30.607 mm (1.205 inches)
Maximum authorized mintage: 750,000
2019-D Uncirculated Basketball Hall of Fame Clad Half Dollar
Pre-issue price: $37.00
Regular price: $42.00
Final mintage: 13,639
2019-S Proof Basketball Hall of Fame Clad Half Dollar
Pre-issue price: $39.00
Regular price: $44.00
Final mintage: 26,584
2020-S Enhanced Uncirculated Basketball Hall of Fame Half Dollar
Price: $45
Final mintage: 22,565
2020-S Colorized Proof Basketball Hall of Fame Half Dollar
Price: $55
Final mintage: 32,614