The 2000 Leif Ericson Silver Dollar (Buy on eBay) was issued by the United States Mint in cooperation with the Republic of Iceland. The commemorative coin program included a U.S. silver dollar and an Icelandic 1,000 kronur coin. Each coin depicted Leif Ericson to mark the 1,000th anniversary of his discovery of the New World.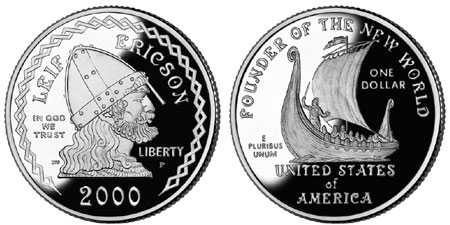 The obverse of the U.S. coin features a portrait of Leif Ericson designed by John Mercanti in traditional Icelandic style. The inscriptions include "Leif Ericson", "In God We Trust", "Liberty", and the year of issue "2000". The reverse of the coin, designed by T. James Ferrell, depicts a Viking ship with Leif Ericson at the helm. The inscriptions include "Founder of the New World", "One Dollar", "E Pluribus Unum", and "United States of America."
The Icelandic version of the coin (pictured below) features an interpretation of the Stirling Calder statue of Leif Ericson on the obverse, and the Icelandic Coat of Arms on the reverse. This coin was designed by Throstur Magnusson.
Both versions of the coin were produced at the Philadelphia Mint. The US version carried the "P" mintmark, while the Icelandic version did not have a mint mark. The U.S. version of the coin was offered individually in uncirculated or proof. The Icelandic version was offered individually in proof. A two coin proof set was offered with each version of the coin. The maximum authorized production was 500,000 coins.
The coins were available for sale at the US Mint from June 21, 2000 to February 28, 2001. A surcharge added to the cost of each coin went to support the Leifur Eiriksson Foundation to fund exchange programs between the United States and Republic of Iceland.
Coin Specifications
Designer: John Mercanti (obverse), T James Ferrell(reverse)
Weight: 26.7300 g
Composition: 90% Silver (0.7736 ounces of silver)
Diameter: 38.1 mm
Maximum Authorized Mintage: 500,000
2000-P Uncirculated Leif Ericson Silver Dollar
Pre-Issue Price: $30.00
Regular Price: $32.00
Final Mintage: 28,150
2000-P Proof Leif Ericson Silver Dollar
Pre-Issue Price: $33.00
Regular Price: $37.00
Final Mintage: 144,748