The 2016 National Park Service $5 Gold Coin (Buy on eBay) was part of a three coin program authorized to commemorate the 100th anniversary of the National Park Service. This federal agency is responsible for the oversight of approximately 400 sites covering 84 million acres of land within the United States of America and its territories.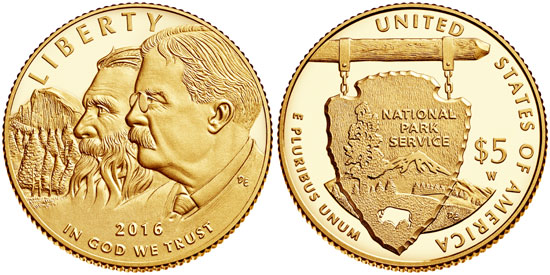 The design of the gold coin pays homage to two important figures within the history of the National Park System. Conservationalist John Muir and President Theodore Roosevelt are pictured before the half dome in the Yosemite Valley. Muir was one of the earliest advocates of the national park idea and devoted much of his later life to the preservation of the Western Forests. During a camping trip within the Yosemite Valley, Muir had famously convinced President Roosevelt to return Yosemite Valley and Mariposa Grove to federal protection as part of Yosemite National Park. Roosevelt would go on to double the number of sites within the National Park System, designating 5 national parks, 18 national monuments, and 150 national forests.
On the obverse of the gold coin, John Muir and President Theodore Roosevelt are shown in profile portraits against a background of the half dome. Muir's beard cleverly blends into the image of the forest. The inscriptions read "Liberty", "In God We Trust", and "2016". The reverse design displays the National Park Service logo shown hanging from a post. The inscriptions read "United States of America", "E Pluribus Unum", and the denomination "$5".
The National Park Service Gold Coins were struck in proof and uncirculated versions at the West Point Mint with a maximum authorized mintage of 100,000 pieces. Sales for the coins officially opened on March 24, 2016 and continued for the duration of the calendar year. The gold coins were subject to variable pricing based on the average weekly market price of gold. For the first month of sales, a pre-issue discount was applied to the pricing chart.
The coins were offered for sale in individual proof or uncirculated versions. A three coin proof set was also available, which included the proof versions of the clad half dollar and silver dollar from the same program. For the gold coins, the last reported sales across all options reached 19,506 proofs and 5,164 uncirculated coins.

Coin Specifications
Designer: Don Everhart (obverse and reverse)
Weight: 8.3590 g
Composition: 90% gold (0.242 ounces of gold)
Diameter: 21.6 mm
Maximum Authorized Mintage: 100,000
2016-W Uncirculated National Park Service $5 Gold Coin
Original Price: variable
Final Mintage: 5,164
2016-W Proof National Park Service $5 Gold Coin
Original Price: variable
Final Mintage: 19,506
Other 2016 National Park Service Commemorative Coins
2016 National Park Silver Dollar
2016 National Park Half Dollar