The 2004 Thomas Alva Edison Silver Dollar (Buy on eBay) was issued to mark the 125th anniversary of the famous inventor's successful demonstration of the electric light bulb, which had occurred on October 21, 1879. Although Edison is credited with hundreds of inventions, the commemorative coin program took focus on this important accomplishment.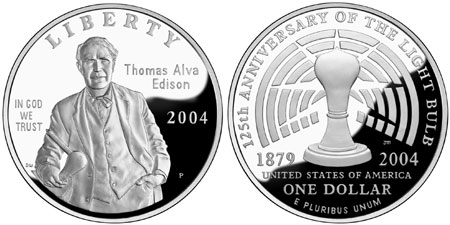 The obverse of the silver dollar features a portrait of Thomas Edison from the waist up, holding a light bulb. The inscriptions include "Liberty", "In God We Trust", "Thomas Alva Edison", and the date of issue "2004".The obverse was designed by Donna Weaver.
The reverse features an image of Edison's first light bulb designed by John Mercanti. An inscription across the upper rim of the coin reads "125th Anniversary of the Light Bulb". Other inscriptions include the dual dates "1879" and "2004", "United States of America", "One Dollar", and "E Pluribus Unum".
The Thomas Edison Silver Dollar was produced in proof and uncirculated version at the Philadelphia Mint with a maximum authorized mintage of 500,000 coins. The coins were initially offered at pre-issue discount prices, with regular pricing later going into effect. A Collectors Set limited to 25,000 units was also issued, priced at $49.95. This set included the uncirculated version of the coin along with an informative presentation case that illuminates when opened.
Coin Specifications
Designer: Donna Weaver (obverse), John Mercanti (reverse)
Weight: 26.7300 g
Composition: 90% Silver (0.7736 ounces of silver)
Diameter: 38.1 mm
Maximum Authorized Mintage: 500,000
2004-P Uncirculated Thomas Edison Silver Dollar
Pre-Issue Price: $31.00
Regular Price: $33.00
Final Mintage: 92,510
2004-P Proof Thomas Edison Silver Dollar
Pre-Issue Price:$33.00
Regular Price: $37.00
Final Mintage: 211,055