The 1994 Women in Military Service Memorial Silver Dollar (Buy on eBay) was issued for the construction of a new memorial complex for women in military service. This was one of three programs issued for military veteran themed memorials. The other programs were for the Vietnam Veterans Memorial and the Prisoner of War Memorial.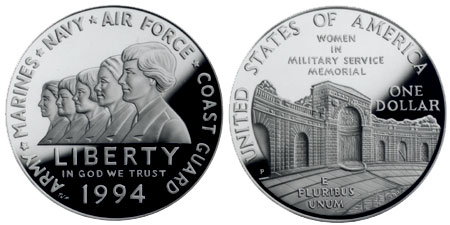 The obverse of the coin features a profile view of servicewomen in the Army, Marine Corps, Navy, Air Force, and Coast Guard. The reverse features a view of the proposed Women in Military Service for America Memorial. Both the obverse and reverse of the coin were designed by T. James Ferrell.
The obverse inscriptions include "Army * Marines * Navy * Air Force * Cost Guard" with each separated by a single star. Remaining inscriptions are "Liberty", "In God We Trust", and the date "1994". The reverse inscriptions read "United States of America", "Women in Military Service", "One Dollar", and "E Pluribus Unum".
The Women in Military Service Silver Dollars were produced at the Philadelphia Mint in proof version and at the West Point Mint in uncirculated version. The coins were offered for sale individually or as part of a three-coin proof or three-coin uncirculated set of all the memorial themed silver dollars. The sales of this coin fared slightly better than the other two, with a combined mintage above 300,000.
Coin Specifications
Designer: T. James Ferrell
Weight: 26.7300 g
Composition: 90% Silver (0.7736 ounces of silver)
Diameter: 38.1 mm
Maximum Authorized Mintage: 500,000
1994-W Uncirculated Women in Military Service Memorial Silver Dollar
Pre-Issue Price: $27.00
Regular Price: $32.00
Final Mintage: 69,860
1994-P Proof Women in Military Service Memorial Silver Dollar
Pre-Issue Price: $31.00
Regular Price: $35.00
Final Mintage: 241,278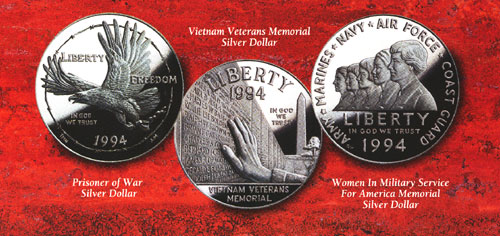 Other 1994 Veterans Commemorative Coins
1994 POW Memorial Silver Dollar
1994 Vietnam Veterans Memorial Silver Dollar