The obverse of the Benjamin Franklin "Scientist" Silver Dollar features an image of him as a young man flying a kite, representing his experiments with lightning. Inscriptions read "Liberty", "1706 – 2006", "In God We Trust", and "Benjamin Franklin Scientist". The reverse features Franklin's famous political cartoon featuring a snake cut apart with the caption "Join, or Die". This was intended to communicate that colonial unity was a matter of life and death. Inscriptions above read "United States of America" and "E Pluribus Unum", and below "One Dollar". The obverse was designed by Norman E. Nemeth and the reverse was designed by Charles Vickers.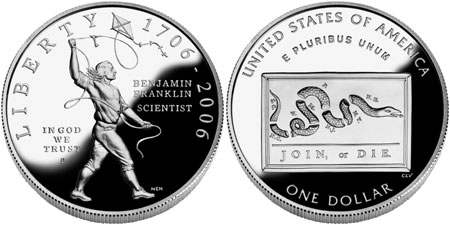 The 2006 Benjamin Franklin Silver Dollar (Buy on eBay) was issued for the 300th anniversary of the birth of this important figure in American history. Different silver dollar designs were released featuring Benjamin Franklin in his younger years as a scientist and his older years as a statesman and Founding Father.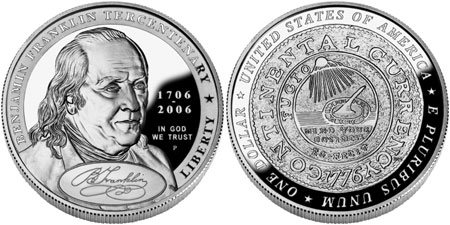 The Benjamin Franklin "Founding Father" Silver Dollar features a head and shoulders portrait of an older Franklin with his signature reproduced below. He had been the only person to sign all four major documents instrumental to founding the United States- the Constitution, the Treaty of Paris, the Treaty of Alliance, and Amity and Commerce. Inscriptions read "Benjamin Franklin Tercentenary","1706 – 2006″, and "In God We Trust". The reverse design features a copy of a 1776 Continental Dollar with modern lettering around the rim reading "United States of America", "E Pluribus Unum", and "One Dollar". The obverse was designed by Don Everhart and the reverse was designed by Donna Weaver.
The maximum authorized mintage for the Benjamin Franklin Silver Dollars was 500,000 coins, across both designs. Proof and uncirculated versions were produced at the Philadelphia Mint, as a nod to Franklin's ties to the city. The US Mint sold the coins individually beginning on January 17, 2006, the exact 300th anniversary of Franklin's birth.
The coins were also included in some specially issued sets. The proof version of the Founding Father coin was included in the 2006 American Legacy Collection. The uncirculated version of the Scientist coin was included in a Coin & Chronicles Set, which included newly released U.S. postage stamps featuring Franklin and a reproduction of the 1758 edition of Poor Richard's Almanack. These special sets were each limited to production of 50,000 units.

Coin Specifications
Designer (Scientist): Norman E. Nemeth (obverse), Charles L. Vickers (reverse)
Designer (Founding Father): Don Everhart (obverse), Donna Weaver (reverse)
Weight: 26.7300 g
Composition: 90% Silver (0.7736 ounces of silver)
Diameter: 38.1 mm
Maximum Authorized Mintage: 500,000 (across both designs)
2006-P Uncirculated Benjamin Franklin Silver Dollar, Scientist
Pre-Issue Price: $33.00
Regular Price: $35.00
Final Mintage: 58,000
2006-P Proof Benjamin Franklin Silver Dollar, Scientist
Pre-Issue Price:$35.00
Regular Price: $39.00
Final Mintage: 142,000
2006-P Uncirculated Benjamin Franklin Silver Dollar, Founding Father
Pre-Issue Price: $33.00
Regular Price: $35.00
Final Mintage: 58,000
2006-P Proof Benjamin Franklin Silver Dollar, Founding Father
Pre-Issue Price:$35.00
Regular Price: $39.00
Final Mintage: 142,000