The 1996 National Community Service Silver Dollar (Buy on eBay) was issued to honor the spirit of volunteerism in the United States. The coins were released at a time when the number of commemorative coin issues had dramatically increased, creating a backlash from collectors. This same year, Congress passed a new law stipulating that after the previously approved programs had run their course, no more than two commemorative coin programs could be approved per year.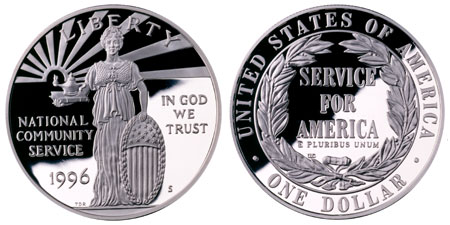 The obverse of the Community Service Silver Dollar was based on a medal designed by Augustus Saint Gaudens for the Women's Auxiliary of the Massachusetts Civil Service Reform Association. It was adapted by Thomas D. Rogers. The inscriptions include "Liberty", "In God We Trust", "National Community Service", and the date "1996".
The reverse design features the words "Service For America" surrounded by a wreath. Below the words is the motto "E Pluribus Unum". Surrounding the wreath are the additional inscriptions "United States of America" and the denomination "One Dollar". The reverse was designed by William C. Cousins.
The 1996 Community Service Dollar was issued in proof and uncirculated versions, both produced at the San Francisco Mint. The coins had a maximum authorized mintage of 500,000 coins, but sold very few, particularly for the uncirculated version. The proof and uncirculated coins were offered for sale individually. A special proof coin and stamp set was also offered, which included an original 1940 USPS stamp featuring Augustus Saint Gaudens and a booklet describing his achievements.
Coin Specifications
Designer: Thomas D. Rogers after Augustus Saint Gaudens (obverse), William C. Cousins (reverse)
Weight: 26.7300 g
Composition: 90% Silver (0.7736 ounces of silver)
Diameter: 38.1 mm
Maximum Authorized Mintage: 500,000
1996-S Uncirculated National Community Service Silver Dollar
Pre-Issue Price: $30.00
Regular Price: $32.00
Final Mintage: 23,500
1996-S Proof National Community Service Silver Dollar
Pre-Issue Price:$33.00
Regular Price: $37.00
Final Mintage: 101,543