The 2011 U.S. Army Silver Dollar (Buy on eBay) was issued as part of a commemorative coin program authorized to recognize and celebrate the establishment of the U.S. Army in 1775, honor the American soldier of today and yesterday, and commemorate the role of the Army in American Society. The program also includes a $5 gold coin and clad half dollar.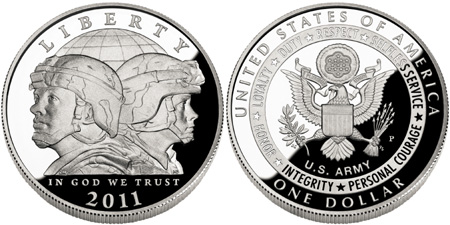 The obverse design of the coin depicts the busts of a male and female soldier positioned back to back. A globe appears within the background to symbolize the worldwide deployment of the modern U.S. Army. The inscription "Liberty" appears above, with "In God We Trust" and the date "2011 below.
The reverse of the coin features the Great Seal of the United States, which is worn on Army uniforms. The seven core values of the Army surround the Seal, separated by stars. These are: Loyalty, Duty, Respect, Selfless Service, Honor, Integrity, and Personal Courage. The additional inscriptions are "United States of America", "One Dollar", and "U.S. Army".
United States Mint sales of the U.S. Army Silver Dollar began on January 31, 2011 under introductory pricing of $54.95 for proof coins and $49.95 for uncirculated coins. After March 2, 2011, regular price of $59.95 and $54.95 for proof and uncirculated coins went into effect. All prices include a $10 surcharge payable to the Army Historical Foundation.
A maximum authorized mintage of 500,000 coins was established across both versions of the coins. Sales concluded at the United States Mint in mid-December, reaching 119,829 proofs and 43,512 uncirculated coins.
Coin Specifications
Designer: Richard Masters (obverse), Susan Gamble (reverse)
Weight: 26.7300 g
Composition: 90% Silver (0.7736 ounces of silver)
Diameter: 38.1 mm
Maximum Authorized Mintage: 500,000
2011-S Uncirculated Army Silver Dollar
Pre-Issue Price: $49.95
Regular Price: $54.95
Final Mintage: 43,512
2011-P Proof Army Silver Dollar
Pre-Issue Price:$54.95
Regular Price: $59.95
Final Mintage: 119,829
Other 2011 Army Commemorative Coins