The 1997 Botanic Gardens Silver Dollar (Buy on eBay) was issued for the National Botanic Garden in Washington, DC. Based on the inscriptions the occasion was for the 165th anniversary, which took place two years prior in 1995. The program did include the issuance of the 1997 Botanic Gardens "Coinage and Currency" Set, which still draws the interest of collectors today.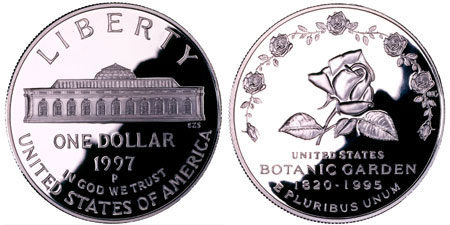 The obverse of the Botanic Gardens Silver Dollar portrays the facade of the Botanic Garden without landscaping. The inscriptions read "Liberty", the denomination "One Dollar", the date and mint mark, "In God We Trust", and United States of America. Some collectors confuse the obverse as the reverse and vice versa because of the inclusion of the denomination. The obverse was designed by Edgar Z. Steever.
The reverse portrays a single rose with a garland of roses encircling the rim of the coin above. The inscriptions include "United States Botanic Garden", the anniversary dates "1820-1995", and the motto "E Pluribus Unum". This was designed by William C. Cousins.
The 1997 Botanic Gardens Commemorative Silver Dollar was produced in proof and uncirculated versions, both minted in Philadelphia. Collectors took focus on the 1997 Botanic Gardens Set (Buy on eBay), which included a matte finish 1997-P Jefferson Nickel. Because only 25,000 of the sets were sold, this nickel enjoys a level of scarcity that has supported high prices. The commemorative offering had a maximum authorized mintage of 500,00 coins across all options. Final combined sales fell below the half-way mark.
Coin Specifications
Designer: Edgar Z. Steever (obverse), William C. Cousins (reverse)
Weight: 26.7300 g
Composition: 90% Silver (0.7736 ounces of silver)
Diameter: 38.1 mm
Maximum Authorized Mintage: 500,000
1997-P Uncirculated Botanic Gardens Silver Dollar
Pre-Issue Price: $30.00
Regular Price: $33.00
Final Mintage: 58,505
1997-P Proof Botanic Gardens Silver Dollar
Pre-Issue Price:$33.00
Regular Price: $37.00
Final Mintage: 189,671