The 2016 Mark Twain Silver Dollar (Buy on eBay) was one of two coins issued to commemorate American author and humorist Mark Twain. The authorizing legislation for the program called for the designs of the coins to be emblematic of Twain's life and legacy. The silver dollar designs make reference to many of the author's literary works.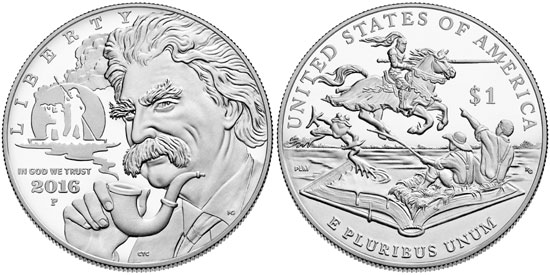 The obverse design features a portrait of Mark Twain with a slight smirk and twinkle in his eye. He is smoking an old fashioned pipe and the smoke forms the silhouette of his famous characters Huckleberry Finn and Jim on a raft. The inscriptions read "Liberty", "In God We Trust", and the date "2016".
On the reverse of the coin is the image of an open book from which several of the author's characters are springing to life. The knight and horse from A Connecticut Yankee in King Arthur's Court is shown at center, along with the frog from The Celebrated Jumping Frog of Calaveras County and Huck and Jim from Adventures of Huckleberry Finn. The inscriptions include "United States of America", "E Pluribus Unum", and the denomination "$1".
The Mark Twain Silver Dollars were offered in proof and uncirculated versions struck at the Philadelphia Mint. The coins went on sale February 1, 2016, which was more than two weeks after the start of sales for the gold coin included in the same commemorative coin program. The delay was due to an error in the certificates of authenticity originally printed for the silver dollar, which incorrectly attributed Huck and Jim to one of Twain's other famous novels The Adventures of Tom Sawyer. The Mint decided to delay the offering in order to print corrected certificates.
At the start of sales, the proof version of the coin was priced at $45.95, while the uncirculated version was priced at $44.95. These prices reflected an introductory period discount. Regular pricing was $50.95 for the proof and $49.95 for the uncirculated version. These prices included a surcharge of $10 per coin to be distributed in equal parts to four organizations related to preserving the author's legacy.
Under the authorizing legislation for the program, up to 350,000 silver dollars were eligible to be minted across all product options. Final sales would reach 78,536 individual proof coins and 26,284 individual uncirculated coins.
Coin Specifications
Designer: Chris Costello (obverse), Patricia Lucas-Morris (reverse)
Weight: 26.7300 g
Composition: 90% Silver (0.7736 ounces of silver)
Diameter: 38.1 mm
Maximum Authorized Mintage: 350,000
2016-P Uncirculated Mark Twain Silver Dollar
Pre-Issue Price: $44.95
Regular Price: $49.95
Last Reported Sales: 26,284
2016-P Proof Mark Twain Silver Dollar
Pre-Issue Price: $45.95
Regular Price: $50.95
Last Reported Sales: 78,536
Other 2016 Mark Twain Commemorative Coins