The 1993 Bill of Rights Half Dollar (Buy on eBay) was one of three coins issued to honor James Madison and the Bill of Rights. The half dollar was struck in a composition of 90% silver, which was not typical for commemorative half dollars. In 1982, the George Washington Half Dollar had been struck in silver, but all subsequent half dollars had been struck in a clad composition.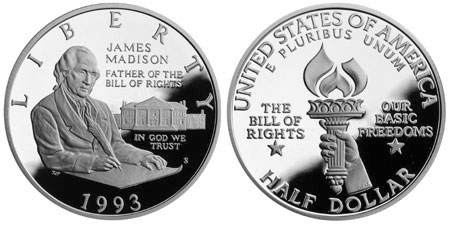 The obverse of the coin features an image of James Madison writing the Bill of Rights. Montpelier, his home in Virginia, is depicted in the background. The reverse of the coin features a hand holding a torch. Both sides of the coin incorporate numerous inscriptions. The obverse was designed by T. James Ferrell and the reverse was designed by Dean McMullen.
The obverse inscriptions include "Liberty", "James Madison", "Father of the Bill of Rights", "In God We Trust", and the year of mintage "1993". The reverse of the coin includes inscriptions "United States of America", "E Pluribus Unum", "The Bill of Rights", "Our Basic Freedoms" and the denomination "Half Dollar".
The American Numismatic Association marked the edge of 9,656 of the 1993 Bill of Rights Half Dollars with the initials of the Madison Foundation and a serial number as a special promotion.
The 1993 Bill of Rights Commemorative Half Dollars were available in proof version struck at the San Francisco Mint and uncirculated version struck at the West point Mint. The coins were sold individually, as well as incorporated within proof or uncirculated two-coin and three-coin sets and a comprehensive six-coin set.
Three special limited edition packaging options were also offered. A Young Collectors Set contained the half dollar in packaging targeted towards younger collectors. A Coin and Medal Set contained the half dollar along with the James Madison Medal. Finally, the Bill of Rights Commemorative Coin and Stamp Set contained the half dollar and a commemorative stamp, representing the first time that a commemorative coin and stamp were offered together as a set. Each of these products were limited to 50,000 units.
Coin Specifications
Designer: T. James Ferrell (obverse), Dean McMullen (reverse)
Weight: 12.500 g
Composition: 90.00% silver (0.3617 ounces of silver)
Diameter: 30.6 mm
Maximum Authorized Mintage: 1,000,000
1993-W Uncirculated Bill of Rights Half Dollar
Pre-Issue Price: $9.75
Regular Price: $11.50
Final Mintage: 193,315
1993-S Proof Bill of Rights Half Dollar
Pre-Issue Price: $12.50
Regular Price: $13.50
Final Mintage: 586,315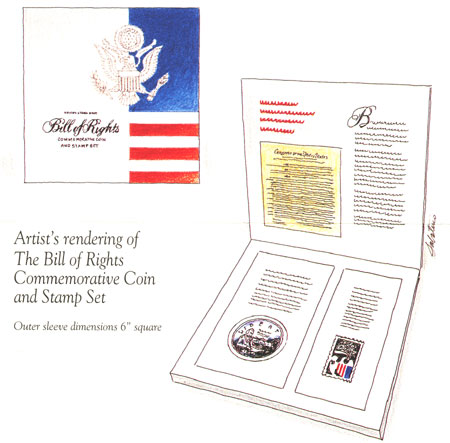 Other 1993 Bill of Rights Commemorative Coins
1993 Bill of Rights Silver Dollar
1993 Bill of Rights $5 Gold Coin