Authorized by Public Law 116-94, a trio of commemorative coins known as the National Law Enforcement Memorial and Museum program was the second program for 2021 and was issued to honor the service and sacrifices of American law enforcement officers, which is the mission of the memorial and museum plus acting as a bridge between officers and the public. The sacrifices of officers include giving their own lives to protect others.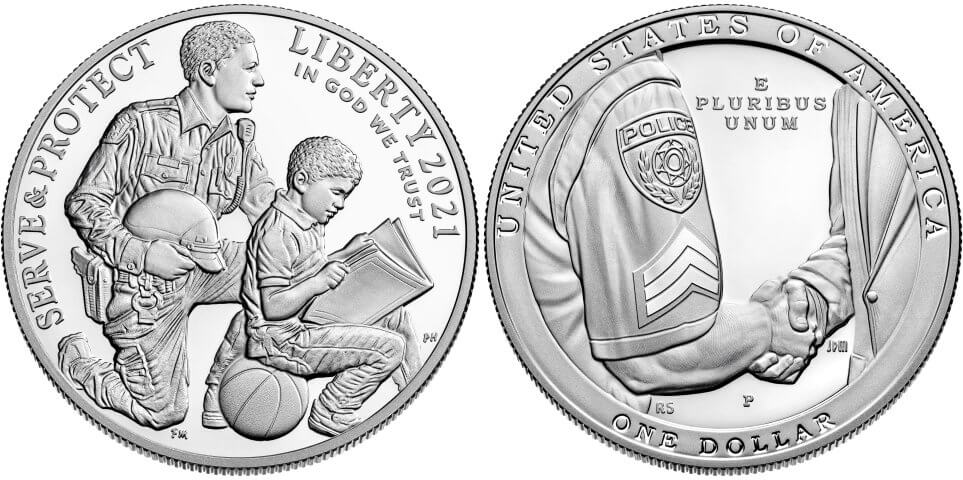 The surcharges from the sale of these coins, including $10 for every uncirculated and Proof silver dollar, were to be paid to the National Law Enforcement Officers Memorial Fund, Inc. to help fund educational and outreach programs.
This program featured different designs on each coin that are emblematic of the National Law Enforcement Museum and the brave officers they honor. The silver dollar obverse, designed by Frank Morris and sculpted by Phebe Hemphill, shows a police officer holding his helmet in one hand knelling near a child, who is shown reading a book and sitting on a basketball, which symbolizes the service police officers provide to communities.
The reverse shows a law enforcement officer shaking the hand of a member of the public, which is also intended to underscore the work they do helping communities safe partly by establishing bonds with the public. This side was designed by Ronald D. Sanders and sculpted John P. McGraw.
Sales began on January 28, 2021 with initial prices of $69 for the uncirculated coin (Buy on eBay) and $74 for the Proof (Buy on eBay), which were increased a month later by $5 each.
The Proof coin was also sold as part of a three-coin set that included Proof versions of that coin plus the $5 gold and clad half dollar that had a product limit of 7,500. It was available to order the same day as the other coins.
The mint state coin sold just 9,424 coins, while the Proof sold 29,705 individually and another 4,394 in the Proof sets for a total of 34,099.
Coin specifications
Designer: Frank Morris (obverse), Ronald D. Sanders (reverse)
Weight: 26.73 grams
Composition: 0.999 fine silver
Diameter: 38.1 mm (1.5 inches)
Maximum authorized mintage: 400,000
2020-P National Law Enforcement Memorial and Museum Silver Dollar
Pre-issue price: $64.00
Regular price: $69.00
Final mintage: 9,424
2020-P Proof National Law Enforcement Memorial and Museum Silver Dollar
Pre-issue price: $69.00
Regular price: $74.00
Final mintage: 34,099*
*Includes 4,394 sold in the 2021 National Law Enforcement Memorial and Museum three-coin set