The 2015 US Marshals Service Silver Dollar (Buy on eBay) was one of three coins issued to celebrate the 225th anniversary of the nation's first federal law enforcement agency. The designs for the coin focused on the legendary status of the United States Marshals in America's cultural landscape.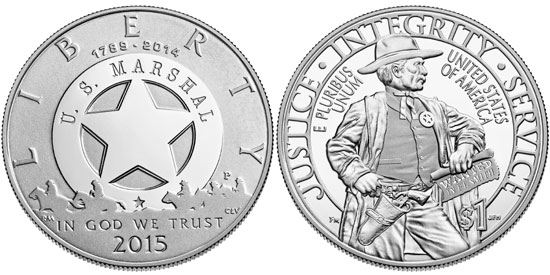 The obverse design of the coin features an image of the US Marshals Service Star with the silhouette of US Marshals riding horses across the lower portion. The inscriptions include "Liberty", the anniversary dates "1789-2014", the motto "In God We Trust", and the date of issue "2015". The obverse was designed by Richard Masters and engraved by Charles Vickers.
On the reverse is a depiction of a frontier U.S. Marshal leaning against a post and holding a "wanted" poster. This image is intended to represent Marshals as the lawmen of the frontiers, playing an important role in their geographic, political, and cultural history. An inscription above the image includes the words of the Marshals Service motto "Justice, Integrity, Service". Additional inscriptions include "E Pluribus Unum", "United States of America", and the denomination "$1". The reverse was designed by Frank Morris and engraved by Joseph Menna.
The United States Mint opened sales for the US Marshals Service Commemorative Coins on January 29, 2015 with sales continuing throughout the duration of the calendar year. The silver dollars were available in proof and uncirculated formats, both produced at the Philadelphia Mint and carrying the "P" mint mark. The initial pricing was $46.95 for the individual proof and $43.95 for the individual uncirculated coins. A three-coin proof set was available, including proof versions of the $5 gold coin, silver dollar, and half dollar. This set initially priced at $473.60 and limited to a production run of 15,000.
The initial pricing for the coins reflected an introductory period discount. After the conclusion of introductory period, the proofs would be priced at $51.95 each and uncirculated coins at $48.95 each. Pricing for all coins included a surcharge distributable to the U.S. Marshals Museum for the preservation, maintenance, and display of artifacts and documents.
The US Marshals Silver Dollars carried a maximum authorized mintage of 500,000 pieces across all product options. The final sales figures for the coins fell far short of this amount, with a total of 124,329 proofs and 38,149 uncirculated coins sold.
Coin Specifications
Designer: Frank Morris (obverse), Joseph Menna (reverse)
Weight: 26.7300 g
Composition: 90% Silver (0.7736 ounces of silver)
Diameter: 38.1 mm
Maximum Authorized Mintage: 500,000
2015-P Uncirculated US Marshals Silver Dollar
Pre-Issue Price: $43.95
Regular Price: $48.95
Final Mintage: 38,149
2015-P Proof US Marshals Silver Dollar
Pre-Issue Price: $46.95
Regular Price: $51.95
Final Mintage: 124,329
Other 2015 US Marshals Service Commemorative Coins