In 2022 the establishment of the first professional African-American baseball league, known as the Negro Leagues, in 1920 was celebrated with a commemorative coin program of silver dollars, $5 gold coins and clad half dollars – each with its own design – authorized by Public Law 116-209.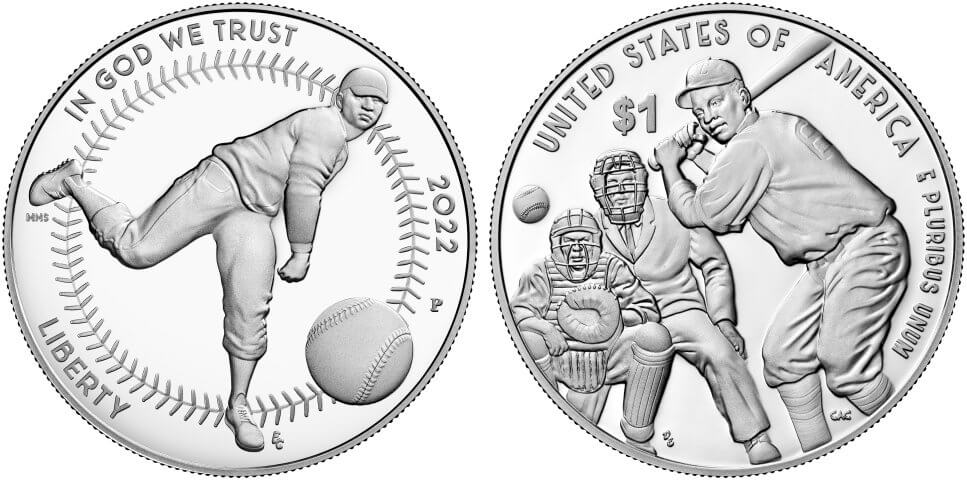 Established in 1920 in Kansas City, Missouri by Andrew "Rube" Foster – an African-American baseball player, manager and executive – the Negro Leagues was created because African-Americans were being kicked out of the major leagues. The owners of the affected teams formed the Negro National League and other leagues formed in other parts of the country. The leagues provided over 2,600 Black and Hispanic players an opportunity to showcase their approach to the game known for fast, aggressive play. The league existed until 1960.
The obverse design of the silver dollar features a pitcher in mid-throw with the baseball on the ground in front of him and the baseball's stitching service as the inner border. The reverse shows a pitch being delivered to a catcher as the player would see it.
These coins went on sale on January 7 with the pre-order discount valid until February 7. The coins did not begin shipping to buyers until May. Each coin carried a $10 surcharge payable to the National Negro Leagues Museum for education and outreach.
In addition to the uncirculated and Proof coins, a three-coin Proof set was offered that included the Proof silver dollar plus the $5 gold coin and half dollar.
There were also two limited edition products with Proof dollars – a coin and medal set that paired a Proof example with a Proof silver medal of Jackie Robinson limited to 15,000 units and a special privy-marked Proof silver dollar whose mark was shaped like a diamond (and baseball field) with "100" inside for the centennial of the establishment of the league limited to 20,000 coins.
The privy mark dollar sold out within about 3 days, reaching total sales of 19,992 – the only product to sell out initially. But that was followed by returns, leaving sales as of June 15 at 18,182.
First week sales of the uncirculated dollar for 4,249; the Proof dollar reached 8.319; and the three-coin set 2,194. And sales of the coin and medal set were 6,832.
Sales for those products as of June 15 were 7,519 for the mint state coin; 19,454 for the Proof; and 3,476 for the three-coin Proof set.
Coin Specifications
Designer: Matt Swaim (obverse), Don Everhart (reverse)
Weight: 26.73 grams
Composition: 0.999 fine silver
Diameter: 38.1 mm (1.5 inches)
Maximum authorized mintage: 400,000
2022-P Uncirculated Negro Leagues Baseball Silver Dollar
Pre-issue price: $69.00
Regular price: $74.00
Final mintage: TBD
2022-P Proof Negro Leagues Baseball Silver Dollar
Pre-issue price: $74.00
Regular price: $79.00
Final mintage: TBD