In 2020 a three-coin commemorative program was issued to mark the 60th anniversary of the Naismith Basketball Hall of Fame.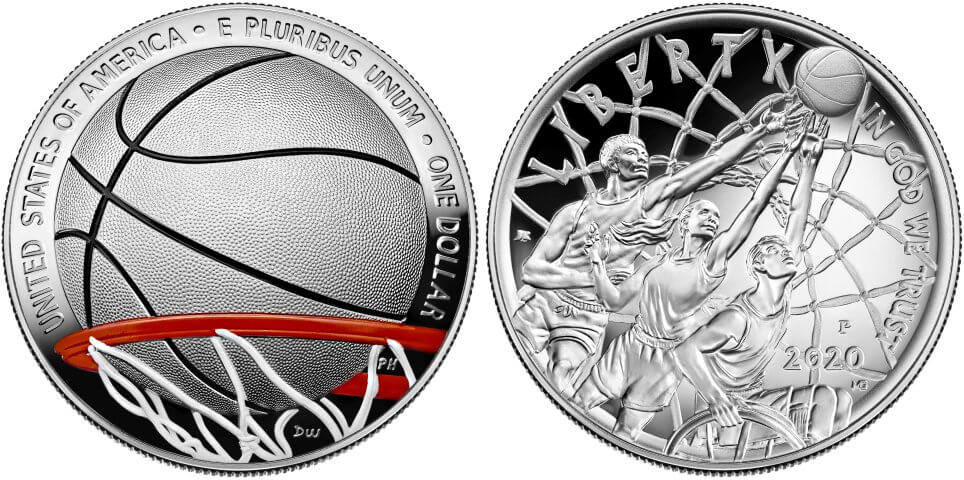 Authorized by Public Law 115-343, the coins were required to be in the same curved shape as the 2019 Apollo 11 coins and 2014 baseball coins with a convex obverse and concave reverse and the common obverse design for all three coins was to be selected based on a design competition.
Founded in 1959 in Springfield, Massachusetts by Dr, James Naismith, a young physical education teacher, the organization is dedicated to celebrating the game and its creator.
A Winning Design
Justin Kunz's design for the obverse won the competition and features three basketball players of different genders, ethnic backgrounds and abilities with their arms elongated as they try to get the ball into the net. The rim and net appear in the background. This side was sculpted by Michael Gaudioso.
The reverse, which was designed by Donna Weaver and sculpted by Phebe Hemphill, shows a basketball as it is going into the net.
In addition to the uncirculated and Proof versions, whose prices were increased that year to $64.00 and $69.00 respectively for the initial price, a colored version of the silver dollar was also issued in Proof in which the net is red and the ribs of the ball are black.
The regular versions went on sale on June 5 and introductory pricing ended on July 6, which added $5 to the price of those coins.
The first three days of sales were 14,395 for the uncirculated piece (Buy on eBay) and 44,215 for the Proof (Buy on eBay). Final sales were 21,328 and 68,778 respectively.
The color Proof dollar (Buy on eBay) went on sale on August 28 and had a mintage limit of 75,000 coins and an order limit of two coins. It was priced at $95. First day sales were 17,748 coins. Final sales of that coin were 25,735.
Each coin includes a $10 surcharge that went to the Hall of Fame to help funds its operations and increase educational funding.
Coin specifications
Designer: Justin Kuntz (obverse), Donna Weaver (reverse)
Weight: 26.73 grams
Composition: 0.999% fine silver
Diameter: 38.1 mm (1.5 inches)
Maximum authorized mintage: 400,000
2019-D Basketball Hall of Fame Silver Dollar
Pre-issue price: $64.00
Regular price: $69.00
Final mintage: 21,328
2019-P Basketball Hall of Fame Silver Dollar
Pre-issue price: $69.00
Regular price: $74.00
Final mintage: 68,778
2019-P Colorized Basketball Hall of Fame Silver Dollar
Price: $95
Final mintage: 25,73