The 1992 Columbus $5 Gold Coin (Buy on eBay) was issued along with two other coins to commemorate the quincentenary of Columbus' discovery of the Americas. These coins were first available in the second half of the year, with sales extending into 1993.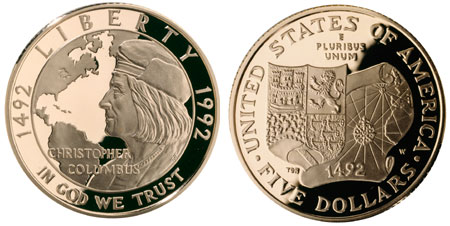 The obverse design of the gold coin features a portrait of Christopher Columbus in profile along with a map of the New World. An outer ring contains the inscriptions "Liberty", "1492", "1992", and "In God We Trust", with "Christopher Columbus" positioned near the profile portrait. The obverse was designed by T. James Ferrell.
The reverse design carries the crest of the Admiral of Oceans and a map of the Old World containing the date "1492". The additional inscriptions read "United States of America", "Five Dollars", and "E Pluribus Unum". The verse was designed by Thomas D. Rogers Sr.
Maximum production levels were set at high levels amidst optimism for the success of the commemorative program. The 1992 Columbus Gold Coin carried a maximum mintage of one million pieces. Proof and uncirculated versions were available, struck at the West Point Mint. Final sales reached about one tenth of the maximum level, with the proof version outselling the uncirculated version by about three to one.
The gold coins were sold individually or as part of a three-coin proof set, three-coin uncirculated set, or full six coin set.
Coin Specifications
Designer: T James Farrell (obverse), Thomas D. Rodgers (reverse)
Weight: 8.3590 g
Composition: 90% gold (0.242 ounces of gold)
Diameter: 21.6 mm
Maximum Authorized Mintage: 1,000,000
1992-W Uncirculated Columbus $5 Gold
Pre-Issue Price: $180.00
Regular Price: $210.00
Final Mintage: 24,329
1992-W Proof Columbus $5 Gold
Pre-Issue Price: $190.00
Regular Price: $225.00
Final Mintage: 79,730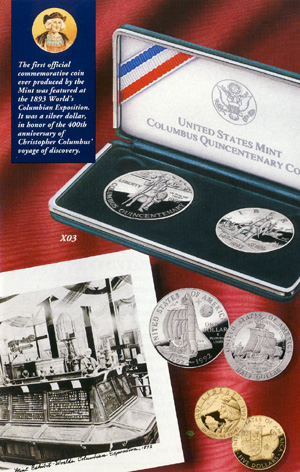 Other 1992 Columbus Commemorative Coins