The 1986 Statue of Liberty $5 Gold Coin (Buy on eBay) was issued in commemoration of the 100th anniversary of the dedication of the Statue of Liberty. The program received an enthusiastic public response, resulting in a complete sell out of the maximum authorized mintage for the gold coins.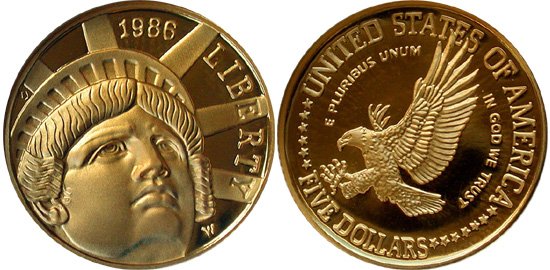 The obverse design features a close view of the face and crown of the statue of Liberty. Inscriptions include the date "1986" above and the word "Liberty" to the left of the image. On the reverse is a depiction of a bald eagle in flight. Around the outer circumference of the coin are inscriptions "United States of America" and the denomination "Five Dollars" interrupted by groups of six and seven stars. An inner circumferential arrangement includes additional inscriptions "E Pluribus Unum" and "In God We Trust". The designs for the coin were by Elizabeth Jones, the Chief Engraver of the United States Mint, with part of the initial modeling for the reverse credited to Philip Fowler.
The coins were available in either proof or uncirculated versions, both struck at the West Point Mint. The coins were sold individually or as part of complete sets. The Three Coin Set, either uncirculated or proof, included the half dollar, silver dollar, and $5 gold coins. The Six Coin Set included both uncirculated and proof versions of each coin.
Prior to the start of sales, some voiced expectations that the gold coins would achieve a sell out of the maximum mintage. This proved correct as the US Mint received orders for all 500,000 coins before the close of the pre-issue discount period. In later promotional materials for the silver dollar and half dollar, the US Mint highlighted the quick sell out of the gold coin.
Prices for the Statue of Liberty $5 Gold Coins rose following the sell out, most notably for the lower mintage uncirculated version of the coin, which rose from the initial price of $165 to around $750. The premium ultimately dissipated as subsequent commemorative gold coins experienced significantly lower mintage levels. For present day collectors, the coins are available at prices based predominantly on the gold content of 0.242 troy ounces.
Coin Specifications
Designer: Elizabeth Jones
Weight: 8.3590 g
Composition: 90% gold (0.242 ounces of gold)
Diameter: 21.6 mm
Maximum Authorized Mintage: 500,000
1986-W Uncirculated Statue of Liberty $5 Gold
Pre-Issue Price: $160.00
Regular Price: $165.00
Final Mintage: 95,248
1986-W Proof Statue of Liberty $5 Gold
Pre-Issue Price: $170.00
Regular Price: $175.00
Final Mintage: 404,013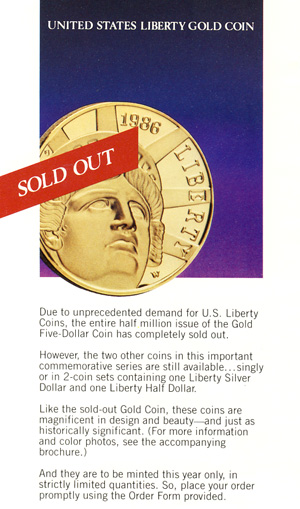 Other 1986 Statue of Liberty Commemorative Coins
1986 Statue of Liberty Half Dollar
1986 Statue of Liberty Silver Dollar