The 2003 First Flight Half Dollar (Buy on eBay) rounded out the offerings related to the First Flight Centennial Commemorative Coin Program, which also included a silver dollar and $10 gold coin. These three coins were the only commemoratives dated 2003, available for sale from August 1, 2003 to July 31, 2004.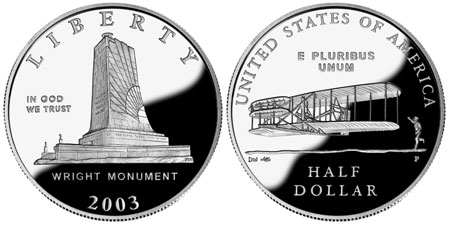 The obverse of the half dollar features Wright Monument located at Kill Devil Hill near Kitty Hawk, North Carolina. The inscriptions include "Liberty", "In God We Trust", "Wright Monument", and the date "2003". This was designed by John Mercanti.
The reverse features an image of the Wright 1903 Flyer making it historic first powered manned flight. Orville Wright is aboard the Flyer with Wilbur on the ground below. The inscriptions include "United States of America", "E Pluribus Unum", and "Half Dollar". The reverse was designed by Norman E. Nemeth.
The First Flight Half Dollars had a maximum authorized mintage of 750,000 across all options, but only managed to sell a fraction of this amount. Despite having one of the lowest mintages for a modern commemorative half dollar, the coins do not carry a significant premium. The proof and uncirculated versions were both produced at the Philadelphia Mint and offered for sale individually.
Coin Specifications
Designer: John Mercanti (obverse), Norman E. Nemeth (reverse)
Weight: 11.3400 g
Composition: 91.67% copper, 8.33% nickel
Diameter: 30.61 mm
Maximum Authorized Mintage: 750,000
2003-P Uncirculated First Flight Half Dollar
Pre-Issue Price: $9.75
Regular Price: $10.75
Final Mintage: 57,122
2003-P Proof First Flight Half Dollar
Pre-Issue Price: $12.50
Regular Price: $13.50
Final Mintage: 109,710