The 2016 National Park Service Silver Dollar (Buy on eBay) was issued along with a clad half dollar and $5 gold coin to celebrate the 100th anniversary of the National Park Service. The federal agency, which was established in 1916 under President Woodrow Wilson, is currently responsible for overseeing approximately 400 sites covering 84 million acres of land within the United States and its territories.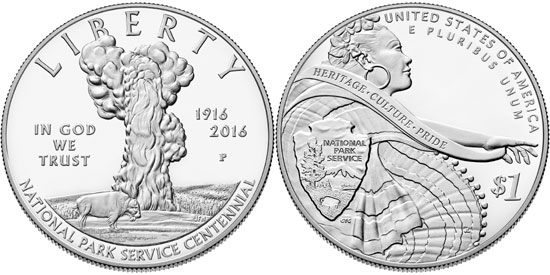 The obverse design of the silver dollar features an iconic image from Yellowstone National Park of the Old Faithful geyser and a bison. These two elements had also been used on the design of the 1999 Yellowstone National Park Silver Dollar and the 2010 Yellowstone National Park Quarter. The design for this silver dollar was completed with the inscriptions "Liberty", "In God We Trust", "National Park Service Centennial", and the dates "1916" and "2016".
The reverse design of the coin is intended to represent the multi-faceted cultural experience found in America's National Parks. The primary image is a depiction of a Latina Folklórico dancer, who holds a ribbon inscribed "Heritage · Culture · Pride". The National Park Service logo is overlaid on the dancer. Additional inscriptions read "United States of America", "E Pluribus Unum", and the denomination "$1".
Sales for the National Park Service Commemorative Coins officially opened on March 24, 2016. On this date, the silver dollars were available in individual proof and uncirculated versions. A three coin proof set containing proof versions of the half dollar, silver dollar, and $5 gold coin was also available. The individual proof and uncirculated coins were initially priced at $45.95 and $44.95, respectively, with higher pricing of $50.95 and $49.95 effective from April 25, 2016. The pricing for the three coin proof sets was variable based on the weekly average market price of gold.
Under the authorizing legislation, the silver dollar had a maximum authorized mintage of 500,000 pieces across all options. Final sales reached 77,315 proofs and 20,997 uncirculated coins. the total sales for the proof coins included 14,589 pieces included within the three coin proof set.
The sales price of each silver dollar included a surcharge of $10 per coin to be paid to the National Park Foundation for projects to help preserve and protect resources under the stewardship of the National Park Service and to promote public appreciation and enjoyment of these resources.
Coin Specifications
Designer: Joseph Menna (obverse), Chris Costello (reverse)
Weight: 26.7300 g
Composition: 90% Silver (0.7736 ounces of silver)
Diameter: 38.1 mm
Maximum Authorized Mintage: 500,000
2016-P Uncirculated National Park Service Silver Dollar
Pre-Issue Price: $44.95
Regular Price: $49.95
Last Reported Sales: 20,997
2016-P Proof National Park Service Silver Dollar
Pre-Issue Price: $45.95
Regular Price: $50.95
Final Mintage: 77,315
Other 2016 National Park Service Commemorative Coins
2016 National Park $5 Gold Coin
2016 National Park Half Dollar