The 1997 Jackie Robinson Silver Dollar (Buy on eBay) was issued in commemoration of the 50th anniversary of his appearance in a major league baseball game as the first black player. Relatively lower mintages support higher secondary market premiums for the issue.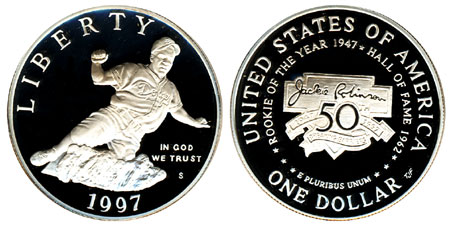 The obverse of the silver dollar portrays Jackie Robinson sliding into home plate. This recalls when he stole home plate in a 1955 World Series game. The inscriptions include "Liberty", "In God We Trust", and the date "1997".
The reverse of the coin displays the logo of the Jackie Robinson Foundation. Inscriptions include "United States of America", "E Pluribus Unum", and "One Dollar". Two accomplishments are also inscribed "Rookie of the Year 1947" and "Hall of Fame 1962".
The Jackie Robinson Silver Dollar was available in uncirculated or proof version, or within two multi-coin sets packaged by the United States Mint. The coins were limited to a maximum authorized production of 200,000 across all options, which was the lowest authorized production for a modern silver commemorative coin. Two coin sets and four coin sets were offered, which included versions of the $1 silver coins. Surcharges added to the cost of the coins were paid to the Botanic Garden Foundation and the Jackie Robinson Foundation.
Coin Specifications
Designer: Alfred Maletsky (obverse), T. James Ferrell (reverse)
Weight: 26.7300 g
Composition: 90% Silver (0.7736 ounces of silver)
Diameter: 38.1 mm
Maximum Authorized Mintage: 200,000
1997-S Uncirculated Jackie Robinson Silver Dollar
Pre-Issue Price: $30.00
Regular Price: $32.00
Final Mintage: 30,180
1997-S Proof Jackie Robinson Silver Dollar
Pre-Issue Price:$33.00
Regular Price: $37.00
Final Mintage: 110,002