The 1996 Olympic Cauldron $5 Gold Coin (Buy on eBay) was issued as one of the coins of the expansive commemorative coin program for the Centennial Olympic Games held in Atlanta, Georgia. The program included a total of sixteen different coin designs issued in compositions of gold, silver, and copper nickel clad. The overwhelming scope of the program and the tepid collector reaction caused the modern commemorative coin process to be reviewed and eventually altered.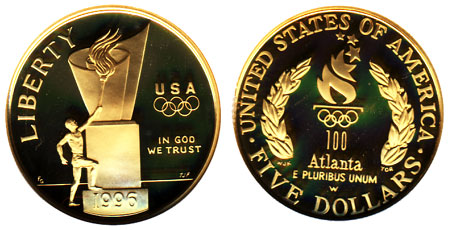 The Olympic Cauldron $5 Gold Coin features an athlete lighting the Olympic flame. The obverse was designed by Frank Gasparro, who had also designed the Olympic Torch Runner Gold Coin issued in the prior year. The inscriptions on the coin include "Liberty", "In God We Trust", the date "1996" and the USA Olympic logo.
The reverse of the coin features the design used in common by both of the 1996 $5 Gold Olympic coins. It displays the logo of the Atlanta Committee for the Olympic Games, bordered by laurel leaves. The laurel leaves hearken back to the laurel wreaths given to the athletes of the ancient Olympic Games. The inscriptions read "United States of America", "Five Dollars", "Atlanta", and "E Pluribus Unum".
The 1996 Olympic Cauldron $5 Gold Coin was limited to an authorized mintage of 300,000 coins across proof and uncirculated versions. All coins were produced at the West Point Mint. The coins were offered for sale by the US Mint individually or as part of four coin sets containing proof or uncirculated coins. When sales ended, the uncirculated versions of both of the Olympic $5 Gold Commemoratives had mintage below 10,000. This was the first time mintages had fallen below this level since the revival of the commemorative coin program in 1982.
Coin Specifications
Designer: Frank Gasparro (obverse) William Krawczewicz (reverse)
Weight: 8.3590 g
Composition: 90% gold (0.242 ounces of gold)
Diameter: 21.6 mm
Maximum Authorized Mintage: 300,000
1996-W Uncirculated Olympic Cauldron $5 Gold Coin
Pre-Issue Price: $229.00
Regular Price: $249.00
Final Mintage: 9,210
1996-W Proof Olympic Cauldron $5 Gold Coin
Pre-Issue Price: $239.00
Regular Price: $259.00
Final Mintage: 38,555