The 1995 Civil War Battlefields Half Dollar (Buy on eBay) was issued along with a $5 gold coin and silver dollar for the preservation of battlefields associated with the Civil War. An artist known for depictions of battle scenes designed all three obverses for the program.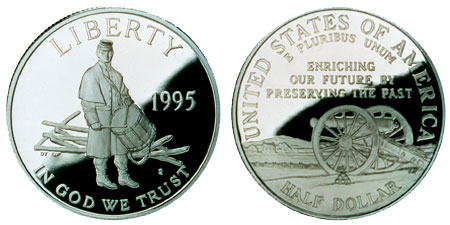 The obverse of the half dollar features a standing drummer boy designed by Don Troiani. The reverse features a cannon against a battlefield landscape. This was designed by US Mint engraver T. James Ferrell.
The inscriptions on the obverse of the coin read "Liberty", "In God We Trust", and the date "1995". The reverse contains a central inscription "Enriching our future by preserving the past" and other required inscriptions surrounding, "United States", "E Pluribus Unum", and the denomination "Half Dollar".
1995 Civil War Battlefields Half Dollars were issued in proof and uncirculated versions, both produced at the San Francisco Mint. The coins were offered for sale individually, or within a variety of multi coin sets, including two-coin, three-coin, and six-coin sets. A Young Collector's Set was also issued, which included the half dollar coin and information for a younger audience. The US Mint's annual Prestige Proof Set included the half dollar and dollar coins. The half dollar had an authorized mintage of 2 million coins, but didn't come close to reaching this level.
Coin Specifications
Designer: Don Troiani (obverse), T James Ferrell (reverse)
Weight: 11.3400 g
Composition: 91.67% copper, 8.33% nickel
Diameter: 30.61 mm
Maximum Authorized Mintage: 2,000,000
1995-S Uncirculated Civil War Half Dollar
Pre-Issue Price: $9.50
Regular Price: $10.25
Final Mintage: 119,520
1995-S Proof Civil War Half Dollar
Pre-Issue Price: $10.75
Regular Price: $11.75
Final Mintage: 330,002