The 2002 Olympic Salt Lake City Silver Dollar (Buy on eBay) was issued for the 2002 Winter Olympics held in Salt Lake City, Utah. A surcharge added to the cost of each coin helped support the Olympic Games. Similar to the gold coin included in the same commemorative coin program, the silver dollar features geometric design elements.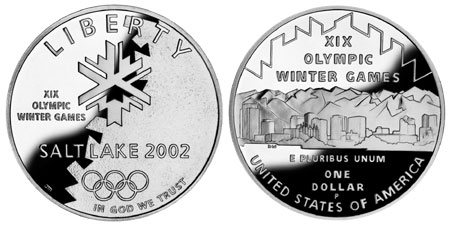 The obverse of the coin features the crystal emblem of the 2002 Olympic Winter Games against the "rhythm of the land" with the Olympic rings below. The inscriptions read "Liberty", "XIX Olympic Winter Games", "Salt Lake 2002", and "In God We Trust". This was designed by John Mercanti.
The reverse, designed by Donna Weaver, features the skyline of Salt Lake City with the Rocky Mountains in the background. The "rhythm of the land" appears in an arc above. The inscriptions read "XIX Olympic Winter Games", "E Pluribus Unum", "One Dollar", and "United Sates of America".
The 2002 Olympics Silver Dollar was issued in proof version and uncirculated versions both struck at the Philadelphia Mint. The coins were sold individually, included in a two coin uncirculated set, or four coin proof and uncirculated set. The maximum authorized mintage was set at 400,000 coins across both options. The majority of the final mintage comprised the proof version of the coin.
Coin Specifications
Designer: John Mercanti (obverse), Donna Weaver (reverse)
Weight: 26.7300 g
Composition: 90% Silver (0.7736 ounces of silver)
Diameter: 38.1 mm
Maximum Authorized Mintage: 400,000
2002-P Uncirculated Olympics Silver Dollar
Pre-Issue Price: $30.00
Regular Price: $32.00
Final Mintage: 40,257
2002-P Proof Olympics Silver Dollar
Pre-Issue Price:$33.00
Regular Price: $37.00
Final Mintage: 166,864