A three coin program was authorized to commemorate the 225th anniversary of the establishment of the nation's first federal law enforcement agency, the United States Marshals Service. Under the authorizing legislation, the $5 gold coin included in the program was required to have an obverse design bearing an image of the US Marshals Service Star and a reverse design emblematic of the sacrifice and service of the men and women of the Service who lost their lives in the line of duty.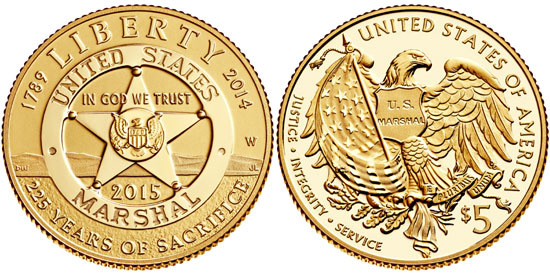 As stipulated, the obverse design of the 2015 US Marshals Service $5 Gold Coin (Buy on eBay) features a central image of the US Marshals Service Star superimposed on a mountain range evoking a western landscape. The inscriptions include the anniversary dates "1789" and "2014", "225 Years of Sacrifice", "Liberty", "In God We Trust", and the date of issue "2015". The obverse was designed by Donna Weaver and engraved by Jim Licaretz.
The reverse design of the coin features a depiction of a bald eagle holding a draped American flag. The eagle's chest bears a shield with the inscription "U.S. Marshal" and a banner in the eagle's claws contains the motto "E Pluribus Unum". The words of the Marshals Service motto "Justice, Integrity, Service" appear in the left field. The remaining inscriptions include "United States of America" and the denomination "$5". The reverse was designed by Paul Balan and engraved by Don Everhart.
The United States Mint began sales of the US Marshals $5 Gold Coins on January 29, 2015. On that date, the gold coins were available individually in proof and uncirculated versions or as part of a three coin proof set, together with the proof silver dollar and half dollar from the same program. The opening sales prices were $412.60 for the proof gold coin, $407.60 for the uncirculated gold coin, and $473.60 for the three coin proof set. The pricing varied throughout the course of the offering based on the prevailing price of gold.
Across all options, the US Marshals Commemorative Gold Coins had a maximum mintage of 100,000 pieces. Last reported sales for the gold coins reached 9,975 individual proof, 6,743 individual uncirculated, and 14,984 proofs included in the three coin set.
Coin Specifications
Designer: Donna Weaver (obverse), Paul Balan (reverse)
Weight: 8.3590 g
Composition: 90% gold (0.242 ounces of gold)
Diameter: 21.6 mm
Maximum Authorized Mintage: 100,000
2015-W Uncirculated US Marshals $5 Gold Coin
Original Price: variable
Final Mintage: 6,743
2015-W Proof US Marshals $5 Gold Coin
Original Price: variable
Final Mintage: 24,959
Other 2015 US Marshals Service Commemorative Coins