The 1992 Olympic $5 Gold Coin (Buy on eBay) was issued to commemorate the participation of the United States in the Olympic Games. The program also included a clad half dollar and silver dollar, with surcharges raised from sales used to help train American athletes.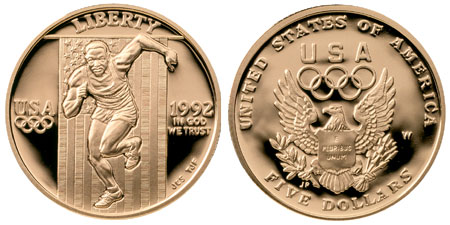 The obverse design of the gold coin features a male sprinter in a burst of speed. An American flag appears in the background oriented vertically, reminiscent of a track. The inscriptions include "Liberty" above, "1992" and "In God We Trust" to the right, and the Olympic rings with "USA" to the left. The obverse was designed by James Sharpe and modeled by T. James Ferrell.
On the reverse of the coin a heraldic eagle appears with wings spread, a shield at its breast reading "E Pluribus Unum", and an olive branch and bundle of arrows grasped in its talons. The Olympic rings and "USA" appear above. The remaining inscriptions read "United States of America" and "Five Dollars". The reverse was designed by James Peed.
The maximum authorized mintage for the 1992 Olympics Gold Coin was set at 500,000 across proof and uncirculated versions, both of which were struck at the West Point Mint. Coin sales reached just above one-fifth of the stated maximum. The gold coins were sold individually or within a three coin proof set, three coin uncirculated set, or complete six coin set containing other coins from the same program.
Promotional materials distributed by the United States Mint included a large hologram with the design of the gold coin. When the brochure is moved, it appears that the sprinter is running forward.
Coin Specifications
Designer: James Sharpe (obverse), James Peed (reverse)
Weight: 8.3590 g
Composition: 90% gold (0.242 ounces of gold)
Diameter: 21.6 mm
Maximum Authorized Mintage: 500,000
1992-W Uncirculated Olympic $5 Gold
Pre-Issue Price: $185.00
Regular Price: $215.00
Final Mintage: 27,732
1992-W Proof Olympic $5 Gold
Pre-Issue Price: $195.00
Regular Price: $230.00
Final Mintage: 77,313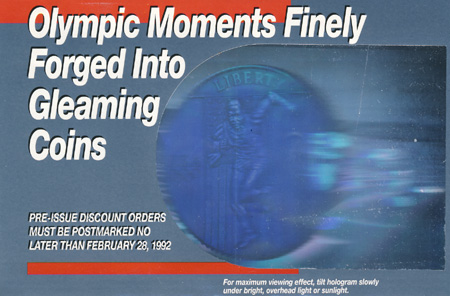 Other 1992 Olympics Commemorative Coins