The 2011 Medal of Honor $5 Gold Coin (Buy on eBay) was issued by the United States Mint to recognize and celebrate the establishment of the Medal of Honor, to recognize its recipients, and promote awareness of the award and what it represents. The Medal of Honor is the highest award that may be given to a member of the Armed Services for valor in action against an enemy force.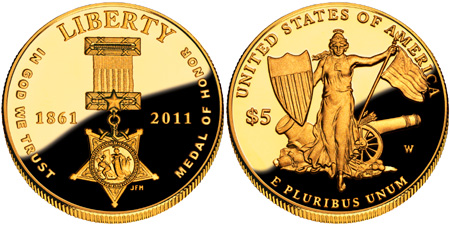 The obverse design of the gold coin features the original Medal of Honor authorized by Congress as the Navy's highest personal decoration. The dual dates of "1861" and "2011" are included to mark the 150th anniversary. Additional inscriptions read, "Liberty", "In God We Trust", and "Medal of Honor".
A striking rendition of Minerva is depicted on the reverse of the coin. She appears in full figure, holding a Union shield and flag with munitions and a Civil War era cannon in the background. Minerva appeared within the central image of the original Medal of Honor. Inscriptions on the reverse of the coin include "United States of America", "E Pluribus Unum", and "$5".
The maximum authorized mintage for the Medal of Honor Gold Coins was established at 100,000 under the authorizing legislation. Each coin had a composition of 90% gold and 10% alloy with a weight of 8.359 grams and 0.85 inch diameter. Proof coins were struck at the West Point Mint, while the uncirculated coins were struck at the Philadelphia Mint.
Sales at the United States Mint began on February 25, 2011, under introductory pricing. The coins were sold individually and not incorporated into any multi-coin sets or other collector products. Later in the year, a sharp rise in the market price of gold led to a suspension of sales. The US Mint resumed sales with the coins priced based on the weekly average market price of gold.
Final sales for the coins reached 18,102 proofs and 8,251 uncirculated coins, for a total of 26,353 out of the 100,000 maximum mintage. The uncirculated version is amongst the lower mintage coins of the modern commemorative era.

Coin Specifications
Designer: Joseph Menna (obverse), Joel Iskowitz (reverse)
Weight: 8.3590 g
Composition: 90% gold (0.242 ounces of gold)
Diameter: 21.6 mm
Maximum Authorized Mintage: 100,000
2011-P Uncirculated Medal of Honor $5 Gold Coin
Introductory Price: $439.95
Regular Price: $444.95
Final Mintage: 8,251
2011-W Proof Medal of Honor $5 Gold Coin
Pre-Issue Price: $449.95
Regular Price: $454.95
Final Mintage: 18,102
Other 2011 Medal of Honor Commemorative Coins