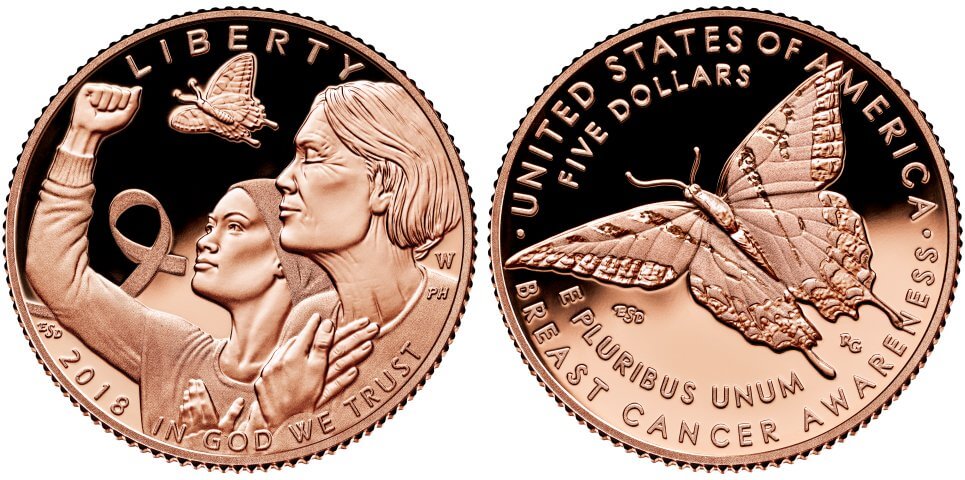 To create heightened interest in the Breast Cancer Awareness $5 gold coin issued in 2018 in Uncirculated (Buy on eBay) and Proof versions (Buy on eBay) the Mint did something different. It made the coin with an alloy that had more copper and less gold than the usual $5 gold coins in produces to give the coin a pinkish hue since pink is the color associated with breast cancer such as on the famous pink ribbons.
On the one hand, the novelty of the pink colored gold did seem to garner higher interest in this coin at a time when sales of the $5 gold commemorative coins had been trending lower, hitting a new low the year before with the 2017-W Boys Town Centennial coin.
On the other hand, there were collectors at the time who said they were disappointed that the coins would contain less gold than $5 coin normally do, as well as those who felt the color would be more strongly pink. At the time, some collectors told publications like Coin World that their coins did not even appear pink at all to them or had just a little pinkish tint.
In addition, because of the popularity of the cause of breast cancer awareness and the fact that these were the first pink gold coins, they received mainstream press coverage, which does not happen a lot with modern U.S. Mint products.
Damstra Designed Both Obverse and Reverse
Both sides of this coin were designed by Emily Damstra and are the same as the designs on the silver dollar and half dollar with two women on the obverse, and a butterfly on the reverse. The obverse was sculpted by Phebe Hemphill, while the reverse was sculpted by Renata Gordon. It was fitting that the coin was the creation of a team of three females.
A $35 surcharge was added to each of these coins if all costs were first recouped to help further breast cancer research, and a maximum of 50,000 coins was authorized by law.
There was a household order limit of one each version of this coin. Their price varied over the course of the year based on the average price of gold. The initial price when they were first offered starting on March 15 was $421 for the mint state and $431 for the Proof.
Sales started off strong for the $5 gold coin, reaching 9,607 within the first 10 days of sales, including 6,560 Proof coins and 3,047 of the mint state version. But then sales slowed over the course of the year in which they were available, reaching a total at the end of 10,386 Proof and 4,477 uncirculated coins.
Coin Specifications
Designer: Emily Damstra
Weight: 7.931 grams
Composition: 85% gold, 14.8% copper, balance zinc
Diameter: 21.59 mm (0.850 inches)
Maximum mintage: 50,000
2018-W Uncirculated Breast Cancer Awareness $5 Gold
Original price: varied
Final mintage: 4,477
2018-W Proof Breast Cancer Awareness $5 Gold Coin:
Original price: varied
Final mintage: 10,386