The United States Mint issued the 2013 Girl Scouts Centennial Silver Dollar (Buy on eBay) to mark the 100th anniversary of the Girl Scouts of the United States of America. This issue followed the previous release of a silver dollar to mark the centennial anniversary of the Boy Scouts of America in 2010.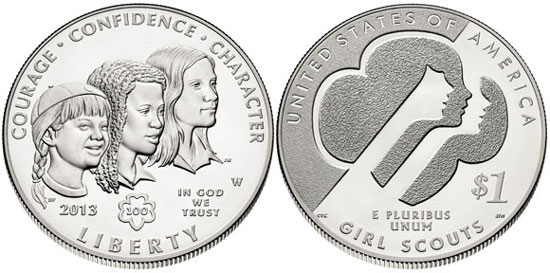 The designs for the coin were unveiled on September 22, 2012 at the 100th Anniversary Experience Exhibition Preview and Dinner Under the Stars hosted by the Girl Scouts of Northeast Texas. The honor of unveiling the designs was held by Girl Scouts of the USA National President Connie L. Lindsey and Chief Executive Officer Anna Maria Chávez before a crowd of hundreds of guests.
The obverse design of the silver dollar features three girls of different ages to represent the diversity of the organization. Inscriptions above include "Courage", "Confidence", and "Character", which are elements of the Girl Scouts mission statement. Additional inscriptions include the date "2013", "In God We Trust", and "Liberty". The 100th anniversary Trefoil symbol also appears.
The reverse design of the coin features the classic Girl Scouts trefoil/profiles symbol. Inscriptions include "United States of America", "E Pluribus Unum", "Girl Scouts", and the denomination expressed as "$1". The Citizens Coinage Advisory Committee had been particularly impressed with this design, citing it as emblematic of a new American style for coinage design which showed off the Mint's technical abilities.
The obverse was designed by Barbara Fox and engraved by Phebe Hemphill.The reverse was designed by Chris Costello and engraved by Joseph Menna.
Sales for the 2013 Girl Scouts Silver Dollars opened on February 28, 2013, when the coins were offered in individual proof and uncirculated versions. The coins were initially priced at $54.95 for the proof version and $50.95 for the uncirculated version. After the conclusion of an introductory period, the regular prices were $59.95 for the proof coin and $55.95 for the uncirculated coin.
On July 19, 2012, a Young Collectors Set was offered which included the uncirculated silver dollar in a tri-fold presentation folder with historical information about the Girl Scouts of the USA organization.
The maximum mintage across all products was 350,000 pieces. A surcharge of $10 per coin was added to the cost of each coin for distribution to the Girl Scouts of the USA for program development and delivery.
The final sales were below the expectations of the United States Mint with 37,462 uncirculated and 86,355 proof coins eventually sold. Because the Mint had produced far in excess of these amounts, the program operated at a loss. As a result, the collected surcharges were not eligible for distribution.
Coin Specifications
Designer: Barbara Fox (obverse), Chris Costello (reverse)
Weight: 26.7300 g
Composition: 90% Silver (0.7736 ounces of silver)
Diameter: 38.1 mm
Maximum Authorized Mintage: 350,000
2013-W Uncirculated Girl Scouts Silver Dollar
Pre-Issue Price: $50.95
Regular Price: $55.95
Final Mintage: 37,462
2013-W Proof Girl Scouts Silver Dollar
Pre-Issue Price: $54.95
Regular Price: $59.95
Final Mintage: 86,355