The mintages for modern commemorative coins issued by the United States Mint are dependent upon the total number of coins sold to collectors during the specified offering period. The number of coins issued under each program is also subject to a certain maximum mintage indicated in the authorizing legislation. In general, coins with the lowest mintages are the most valuable for their respective denominations.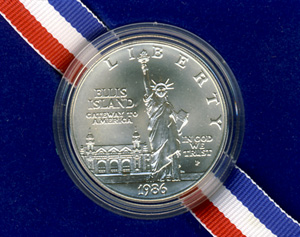 Commemorative coins have experienced low mintage levels for a variety of factors. Over the years, some programs have carried themes or designs that did not experience a high degree of popularity with buyers, resulting in lower sales. The number of other numismatic products offered concurrently has also played a factor. During and immediately following periods with a large number of different commemorative coins issued, the number coins sold for each program has suffered.
Collector preference for proof versions compared to uncirculated versions also plays a factor. In almost all cases, the total sales for proofs is higher than for uncirculated coins. Different packaging options can have an impact, as coins included in multi-coin sets or special collectible products can experience higher sales than coins only offered individually. Finally, in recent years, the price of precious metals seems to have had an impact. Gold and silver coins have become more expensive, prompting some collectors to cut back on their purchases.
Some of the most well known low mintage modern commemorative coins include the uncirculated version of the 1997 Jackie Robinson $5 Gold Coin, numerous issues from the 1995-1996 Olympic commemorative program, and the uncirculated version of the 2000-W Library of Congress $10 Gold and Platinum Coin.
The modern commemoratives with the highest mintages primarily consist of the earlier issues. After nearly 30 years without commemorative offerings, there was a high level of pent up demand and collector excitement. The 1982 George Washington Half Dollar sold more than 7 million coins across the proof and uncirculated offerings. This high level was exceeded by the number of 1986 Statue of Liberty Half Dollars and Silver Dollars sold.
The pages of this website dedicated to each individual modern commemorative coin include the maximum authorized mintage and final mintage. All of the final mintages are listed in the table below for easier access.
Modern Commemorative Coin Mintage Figures
| | Uncirculated | Proof |
| --- | --- | --- |
| 1982-D George Washington Half Dollar | 2,210,458 | |
| 1982-S George Washington Half Dollar | | 4,894,044 |
| 1983-P Olympic Silver Dollar | 294,543 | |
| 1983-D Olymipc Silver Dollar | 174,014 | |
| 1983-S Olympic Silver Dollar | 174,014 | 1,577,025 |
| 1984-P Olympic Silver Dollar | 217,954 | |
| 1984-D Olympic Silver Dollar | 116,675 | |
| 1984-S Olympic Silver Dollar | 116,675 | 1,801,210 |
| 1984-P Olympic $10 Gold | | 33,309 |
| 1984-D Olympic $10 Gold | | 34,533 |
| 1984-S Olympic $10 Gold | | 48,551 |
| 1984-W Olympic $10 Gold | 75,886 | 381,085 |
| 1986-D Statue of Liberty Half Dollar | 928,008 | |
| 1986-S Statue of Liberty Half Dollar | | 6,925,627 |
| 1986-P Statue of Liberty Silver Dollar | 723,635 | |
| 1986-S Statue of Liberty Silver Dollar | | 6,414,638 |
| 1986-W Statue of Liberty $5 Gold | 95,248 | 404,013 |
| 1987-P Constitution Silver Dollar | 451,629 | |
| 1987-S Constitution Silver Dollar | | 2,747,116 |
| 1987-W Constitution $5 Gold | 214,225 | 651,659 |
| 1988-D Olympic Silver Dollar | 191,368 | |
| 1988-S Olympic Silver Dollar | | 1,359,366 |
| 1988-W Olympic $5 Gold | 62,913 | 281,465 |
| 1989-D Congress Half Dollar | 163,753 | |
| 1989-S Congress Half Dollar | | 767,897 |
| 1989-D Congress Silver Dollar | 135,203 | |
| 1989-S Congress Silver Dollar | | 762,198 |
| 1989-W Congress $5 Gold | 46,899 | 164,690 |
| 1990-W Eisenhower Silver Dollar | 241,669 | 1,144,461 |
| 1991-D Mount Rushmore Half Dollar | 172,754 | |
| 1991-S Mount Rushmore Half Dollar | | 753,257 |
| 1991-P Mount Rushmore Silver Dollar | 133,139 | |
| 1991-S Mount Rushmore Silver Dollar | | 738,419 |
| 1991-W Mount Rushmore $5 Gold | 31,959 | 111,991 |
| 1991-P Korean War Silver Dollar | | 618,488 |
| 1991-D Korean War Silver Dollar | 213,049 | |
| 1991-D USO Silver Dollar | 124,958 | |
| 1991-S USO Silver Dollar | | 321,275 |
| 1992-P Olympic Half Dollar | 161,607 | |
| 1992-S Olymipc Half Dollar | | 519,645 |
| 1992-D Olympic Silver Dollar | 187,552 | |
| 1992-S Olympic Silver Dollar | | 504,505 |
| 1992-W Olymipc $5 Gold | 27,732 | 77,313 |
| | | |
| --- | --- | --- |
| | | |
| 1992-D White House Silver Dollar | 123,803 | |
| 1992-W White House Silver Dollar | | 375,851 |
| | | |
| 1992-D Columbus Half Dollar | 135,702 | |
| 1992-S Colubus Half Dollar | | 390,154 |
| 1992-D Columbus Silver Dollar | 106,949 | |
| 1992-S Columbus Silver Dollar | | 385,241 |
| 1992-W Columbus $5 Gold | 24,329 | 79,730 |
| | | |
| 1993-W Bill of Rights Half Dollar | 193,346 | |
| 1993-S Bill of Rights Half Dollar | | 586,315 |
| 1993-D Bill of Rights Silver Dollar | 98,383 | |
| 1993-S Bill of Rights Silver Dollar | | 534,001 |
| 1993-W Bill of Rights $5 Gold | 23,266 | 78,651 |
| | | |
| 1991-1995-P World War II Half Dollar | 197,072 | 317,396 |
| 1991-1995-D World War II Silver Dollar | 107,240 | |
| 1991-1995-W World War II Silver Dollar | | 342,041 |
| 1991-1995-W World War II $5 Gold | 23,672 | 67,026 |
| | | |
| 1994-D World Cup Half Dollar | 168,208 | |
| 1994-P World Cup Half Dollar | | 609,354 |
| 1994-D World Cup Silver Dollar | 81,524 | |
| 1994-S World Cup Silver Dollar | | 577,090 |
| 1994-W World Cup $5 Gold | 22,447 | 89,614 |
| | | |
| 1993-P Thomas Jefferson Silver Dollar | 266,927 | |
| 1993-S Thomas Jefferson Silver Dollar | | 332,891 |
| | | |
| 1994-W Vietnam Veterans Silver Dollar | 57,290 | |
| 1994-P Vietnam Veterans Silver Dollar | | 227,671 |
| | | |
| 1994-W POW Silver Dollar | 54,893 | |
| 1994-P POW Silver Dollar | | 224,449 |
| | | |
| 1994-W Women in Military Silver Dollar | 69,860 | |
| 1994-P Women in Military Silver Dollar | | 241,278 |
| | | |
| 1994-D US Capitol Silver Dollar | 68,332 | |
| 1994-S US Capitol Silver Dollar | | 279,579 |
| | | |
| 1995-S Civil War Half Dollar | 119,520 | 330,002 |
| 1995-P Civil War Silver Dollar | 45,866 | |
| 1995-S Civil War Silver Dollar | | 437,114 |
| 1995-W Civil War $5 Gold | 12,735 | 55,246 |
| | | |
| 1995-S Olympics Basketball Half Dollar | 171,001 | 169,655 |
| 1995-S Olympics Baseball Half Dollar | 164,605 | 118,087 |
| 1996-S Olymipcs Swimming Half Dollar | 49,533 | 114,315 |
| 1996-S Olympics Soccer Half Dollar | 52,836 | 112,412 |
| 1995-D Olympics Gymnastics Silver Dollar | 42,497 | |
| 1995-P Olympics Gymnastics Silver Dollar | | 182,676 |
| 1995-D Olympics Track and Field Silver Dollar | 24,976 | |
| 1995-P Olympics Track and Field Silver Dollar | | 136,935 |
| | | |
| --- | --- | --- |
| 1995-D Olympics Cycling Silver Dollar | 19,662 | |
| 1995-P Olympics Cycling Silver Dollar | | 118,795 |
| 1995-D Paralympics Silver Dollar | 28,649 | |
| 1995-P Paralympics Silver Dollar | | 138,337 |
| 1996-D Olympics Tennis Silver Dollar | 15,983 | |
| 1996-P Olympics Tennis Silver Dollar | | 92,016 |
| 1996-D Olympics Rowing Silver Dollar | 16,258 | |
| 1996-P Olympics Rowing Silver Dollar | | 84,280 |
| 1996-D Olympics High Jump Silver Dollar | 15,697 | |
| 1996-P Olympics High Jump Silver Dollar | | 151,890 |
| 1996-D Paralympics Silver Dollar | 14,497 | |
| 1996-P Paralympics Silver Dollar | | 124,502 |
| 1995-W Torch Runner $5 Gold | 14,675 | 57,442 |
| 1995-W Stadium $5 Gold | 10,579 | 43,124 |
| 1996-W Flag Bearer $5 Gold | 9,174 | 32,886 |
| 1996-W Cauldron $5 Gold | 9,210 | 38,555 |
| | | |
| 1995-W Special Olympics Silver Dollar | 89,301 | |
| 1995-P Special Olympics Silver Dollar | | 351,764 |
| | | |
| 1996-S National Community Service Silver Dollar | 23,500 | 101,543 |
| | | |
| 1996-D Smithsonian Silver Dollar | 31,320 | |
| 1996-P Smithsonian Silver Dollar | | 129,152 |
| 1996-W Smithsonian $5 Gold | 9,068 | 21,772 |
| | | |
| 1997-P Botanic Garden Silver Dollar | 58,505 | 189,671 |
| | | |
| 1997-S Jackie Robinson Silver Dollar | 30,180 | 110,002 |
| 1997-W Jackie Robinson $5 Gold | 5,174 | 24,072 |
| | | |
| 1997-W Franklin Roosevelt $5 Gold | 11,894 | 29,474 |
| | | |
| 1997-P Law Enforcement Silver Dollar | 28,575 | 110,428 |
| | | |
| 1998-S Robert F. Kennedy Silver Dollar | 106,422 | 99,020 |
| | | |
| 1998-S Black War Patriots Silver Dollar | 37,210 | 75,070 |
| | | |
| 1999-P Dolley Madison Silver Dollar | 89,104 | 224,403 |
| | | |
| 1999-W George Washington $5 Gold | 22,511 | 41,693 |
| | | |
| --- | --- | --- |
| | | |
| 1999-P Yellowstone Silver Dollar | 82,563 | |
| 1999-S Yellowstone Silver Dollar | | 187,595 |
| | | |
| 2000-P Library of Congress Silver Dollar | 53,264 | 198,503 |
| 2000-W Library of Congress $10 Gold Platinum | 7,261 | 27,445 |
| | | |
| 2000-P Leif Ericson Silver Dollar | 28,150 | 144,748 |
| | | |
| 2001-D American Buffalo Silver Dollar | 227,131 | |
| 2001-P American Buffalo Silver Dollar | | 272,869 |
| | | |
| 2001-P Capitol Visitor Center Half Dollar | 99,157 | 77,962 |
| 2001-P Capitol Visitor Center Silver Dollar | 35,380 | 143,793 |
| 2001-W Capitol Visitor Center $5 Gold | 6,761 | 27,652 |
| | | |
| 2002-P Salt Lake City Silver Dollar | 40,257 | 166,864 |
| 2002-W Salt Lake City $5 Gold | 10,585 | 32,877 |
| | | |
| 2002-W West Point Silver Dollar | 103,201 | 288,293 |
| | | |
| 2003-P First Flight Half Dollar | 57,122 | 109,710 |
| 2003-P Fight Flight Silver Dollar | 53,533 | 190,240 |
| 2003-W First Flight $5 Gold Coin | 10,009 | 21,676 |
| | | |
| 2004-P Thomas Edison Silver Dollar | 92,510 | 211,055 |
| | | |
| 2004-P Lewis and Clark Silver Dollar | 142,015 | 351,989 |
| | | |
| 2005-P John Marshall Silver Dollar | 67,096 | 196,753 |
| | | |
| 2005-P Marine Corps Silver Dollar | 49,671 | 548,810 |
| | | |
| 2006-P Benjamin Franklin Silver Dollar Scientist | 58,000 | 142,000 |
| 2006-P Benjamin Franklin Silver Dollar Founding Father | 58,000 | 142,000 |
| | | |
| 2006-S San Francisco Old Mint Silver Dollar | 67,100 | 160,870 |
| 2006-S San Francisco Old Mint $5 Gold | 17,500 | 44,174 |
| | | |
| 2007-P Jamestown Silver Dollar | 81,034 | 260,363 |
| 2007-W Jamestown $5 Gold | 18,623 | 47,123 |
| | | |
| 2007-P Little Rock Silver Dollar | 66,093 | |
| 2007-S Little Rock Silver Dollar | | 124,678 |
| | | |
| 2008-S Bald Eagle Half Dollar | 120,180 | 220,577 |
| 2008-P Bald Eagle Silver Dollar | 119,204 | 294,601 |
| | | |
| --- | --- | --- |
| 2008-W Bald Eagle $5 Gold | 15,009 | 59,269 |
| | | |
| 2009-P Abraham Lincoln Silver Dollar | 125,000 | 375,000 |
| | | |
| 2009-P Louis Braille Silver Dollar | 82,639 | 135,235 |
| | | |
| 2010-W American Veterans Disabled for Life Silver Dollar | 78,301 | 202,770 |
| | | |
| 2010-P Boy Scouts Silver Dollar | 105,020 | 244,963 |
| | | |
| 2011-P Medal of Honor Silver Dollar | 44,752 | |
| 2011-S Medal of Honor Silver Dollar | | 112,833 |
| 2011-P Medal of Honor $5 Gold | 8,233 | |
| 2011-S Medal of Honor $5 Gold | | 17,999 |
| | | |
| 2011-P U.S. Army Half Dollar | 39,442 | |
| 2011-S U.S. Army Half Dollar | | 68,332 |
| 2011-P U.S. Army Silver Dollar | 43,512 | |
| 2011-S U.S. Army Silver Dollar | | 119,829 |
| 2011-P U.S. Army $5 Gold | 8,052 | |
| 2011-S U.S. Army $5 Gold | | 17,148 |
| | | |
| 2012-W Infantry Silver Dollar | 44,348 | 161,151 |
| | | |
| 2012-W Star Spangled Banner $5 Gold | 7,006 | 18,299 |
| 2012-P Star Spangled Banner Silver Dollar | | 168,981 |
| 2012-S Star Spangled Banner Silver Dollar | 41,679 | |
| | | |
| 2013-W Girl Scouts Silver Dollar | 37,462 | 86,355 |
| | | |
| 2013-P 5-Star Generals Half Dollar | 38,095 | |
| 2013-S 5-Star Generals Half Dollar | | 47,326 |
| 2013-W 5-Star Generals Silver Dollar | 34,638 | |
| 2013-S 5-Star Generals Silver Dollar | | 69,283 |
| 2013-P 5-Star Generals $5 Gold | 5,667 | |
| 2013-S 5-Star Generals $5 Gold | | 15,834 |
| | | |
| 2014-D Baseball HOF Half Dollar | 176,446 | |
| 2014-S Baseball HOF Half Dollar | | 257,173 |
| 2014-P Baseball HOF Silver Dollar | 131,924 | 268,076 |
| 2014-W Baseball HOF $5 Gold | 17,677 | 32,427 |
| | | |
| 2014-P Civil Rights Act Silver Dollar | 24,720 | 61,992 |
| | | |
| 2015-D US Marshals Half Dollar | 38,149 | |
| 2015-S US Marshals Half Dollar | | 76,549 |
| 2015-P US Marshals Silver Dollar | 38,149 | 124,329 |
| 2015-W US Marshals $5 Gold | 6,743 | 24,959 |
| | | |
| 2015-P March of Dimes Silver Dollar | 24,742 | 132,030 |
| | | |
| | | |