The 1989 Congress Bicentennial Half Dollar (Buy on eBay) was issued to mark the 200th anniversary of the operation of Congress under the U.S. Constitution. This was one of three coins issued under the program, which also included a silver dollar and $5 gold coin. Surcharges from the sale of coins went to the Capitol Preservation Fund.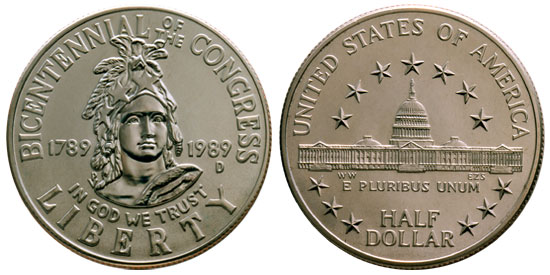 The obverse design of the half dollar depicts a close up of the bust of Thomas Crawford's Statue of Freedom, which is found at the peak of the Capital Dome. A view of the full statue is used for the silver dollar. The inscriptions on the half dollar include "Bicentennial of the Congress" above, "In God We Trust" and "Liberty" below, and the anniversary dates "1789" and 1989″ to each side. The obverse was designed by Patricia Lewis Verani.
Pictured on the reverse is a full view of the Capitol Building accentuated with a pattern of seven stars above and three stars to each side below. The inscriptions read "United States of America", "E Pluribus Unum", and "Half Dollar". The reverse was designed by William Woodward based on modeling produced by Edgar Z. Steever.
The 1989 Congress Half Dollar was offered in both proof and uncirculated versions. The proof coins were produced at the San Francisco Mint and the uncirculated coins were produced at the Denver Mint. The coins were sold individually or as part of sets including two, three, or six coins. The coins were initially sold at a pre-issue discount price before regular pricing came into effect.
Coin Specifications
Designer: Patricia L Verani (obverse), William Woodward (reverse)
Weight: 11.3400 g
Composition: 91.67% copper, 8.33% nickel
Diameter: 30.61 mm
Maximum Authorized Mintage: 4,000,000
1989-D Uncirculated Congress Half Dollar
Pre-Issue Price: $5.00
Regular Price: $6.00
Final Mintage: 163,753
1989-S Proof Congress Half Dollar
Pre-Issue Price: $7.00
Regular Price: $8.00
Final Mintage: 767,897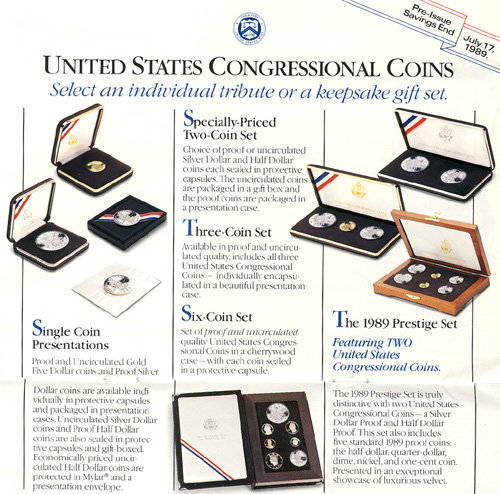 Other 1989 Congress Commemorative Coins
1989 Congress Silver Dollar
1989 Congress $5 Gold Coin