The 1991 Korean War Memorial Silver Dollar (Buy on eBay) was issued to mark the 38th anniversary of the Korean War and to honor those who served. The oddly chosen anniversary date is the result of the division between North and South Korea at the 38th degree of latitude. The only commemorative coin of the program was the silver dollar.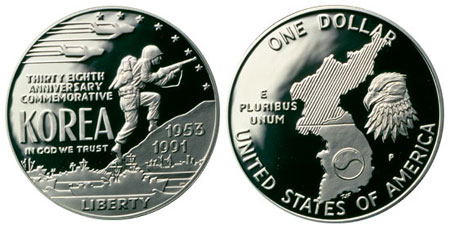 The obverse design depicts a soldier charging up a hill with naval ships in the foreground and two aircraft flying above. The inscriptions within the right field read "Thirty Eighth Anniversary Commemorative Korea" and "In God We Trust". Additional inscriptions are found on the hill "1953 1991" and at the base of the coin "Liberty". The obverse was designed by John Mercanti.
Appearing on the reverse of the coin is a map of Korea with the division at the 38th parallel and the "yin and yang" in the south. An eagle's head appears to the left of the map. Inscriptions include "One Dollar", "E Pluribus Unum", and "United States of America". The reverse was designed by James T. Ferrel.
A maximum authorized mintage of 1,000,000 was established for the Korean War Silver Dollar. The uncirculated version of the coin was produced at the Denver Mint and the proof version at the Philadelphia Mint. Final sales came short of achieving a sell out, but did reach more than 80% of the maximum. Surcharges raised from the commemorative program went towards the construction of the Korean War Veterans Memorial.
Coin Specifications
Designer: John Mercanti (obverse), James Ferrell ( reverse)
Weight: 26.7300 g
Composition: 90% Silver (0.7736 ounces of silver)
Diameter: 38.1 mm
Maximum Authorized Mintage: 1,000,000
1991-D Uncirculated Korean War Memorial Silver Dollar
Pre-Issue Price: $23.00
Regular Price: $26.00
Final Mintage: 213,049
1991-P Proof Korean War Memorial Silver Dollar
Pre-Issue Price: $28.00
Regular Price: $31.00
Final Mintage: 618,488