The 2004 Lewis & Clark Bicentennial Silver Dollar (Buy on eBay) was issued to commemorate the 200th anniversary of the famous expedition of the two explorers. During the same year, the five cent piece featured two different "Westward Journey" reverse designs to commemorate expedition.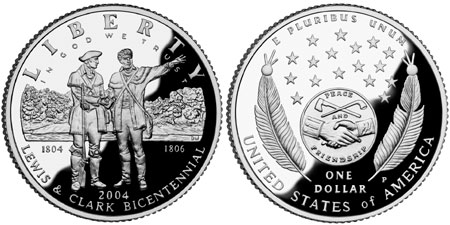 The obverse of the silver dollar features Captains Lewis and Clark planning another day of exploration. Lewis holds a rifle and journal and Clark points into the distance. A river bank is seen in the background. The inscriptions include "Liberty", "In God We Trust", "Lewis & Clark Bicentennial", the expedition dates "1804" and "1806", the the date of issue for the coin "2004".
The reverse features the Peace Medal that Lewis and Clark presented to Native Americans during the course of their journey. Two features are on either side with 17 stars above, representing the number of states when the expedition took place. Inscriptions include "E Pluribus Unum", "One Dollar", and "United States of America". The words "Peace and Friendship" appear on the image of the medal. Both the obverse and reverse of the coin were designed by Donna Weaver.
The Philadelphia Mint produced both the proof and uncirculated versions of the Lewis and Clark Silver Dollar. In addition to individual coin sales, the United States Mint offered two specially produced sets, each limited to 50,000 units. The Lewis & Clark Coinage and Currency Set was priced at $90.00 and included the uncirculated version of the silver dollar, a silver plated bronze duplicate of the Peace Medal, two uncirculated 2004 Westward Journey Nickels, an uncirculated 2004 Sacagawea Dollar, a replica series 1901 $10 Bison Note, three Lewis and Clark postage stamps, and two informational booklets. The Lewis & Clark Coin & Pouch Set was priced at $120 and included the proof version of the silver dollar and a handmade American Indian pouch.
Coin Specifications
Designer: Donna Weaver (obverse and reverse)
Weight: 26.7300 g
Composition: 90% Silver (0.7736 ounces of silver)
Diameter: 38.1 mm
Maximum Authorized Mintage: 500,000
2004-P Uncirculated Lewis & Clark Silver Dollar
Pre-Issue Price: $33.00
Regular Price: $35.00
Final Mintage: 142,015
2004-P Proof Lewis & Clark Silver Dollar
Pre-Issue Price:$35.00
Regular Price: $39.00
Final Mintage: 351,989