The 2011 Medal of Honor Silver Dollar (Buy on eBay) was issued to celebrate the 150th anniversary of the establishment of the highest award for valor in action against an enemy force and recognize its recipients. One of the purposes of the program was to promote awareness of how ordinary Americans can challenge fate and change the course of history through courage, sacrifice, selfless service and patriotism. Since its introduction, less than 3,500 Medals of Honor have been awarded to members of the Armed Services.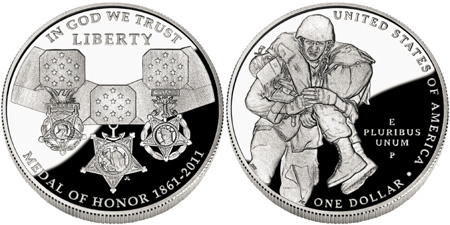 The obverse design of the silver dollar depicts the three modern Medals of Honor for the Army, Navy, and Air Force, which are worn around the neck. The inscriptions are "In God We Trust", "Liberty", "Medal of Honor", and "1861-2011". The obverse was designed and sculpted by Jim Licaretz.
On the reverse is a scene of an infantry soldier carrying a wounded solider to safety under enemy fire. This was designed by Richard Masters and sculpted by Phebe Hemphill. The scene is intended to represent the courage, selfless sacrifice, and patriotism of Medal of Honor recipients. The inscriptions include "United States of America", "E Pluribus Unum", and "One Dollar".
The Medal of Honor Silver Dollars were struck in proof version at the Philadelphia Mint and uncirculated version at the San Francisco Mint. The initial price of the coins was set at $54.95 for proofs and $49.95 for uncirculated coins. Surcharges of $10 per silver coin are added to the purchase price of each coin. The funds were distributed to the Congressional Medal of Honor Foundation to finance educational, scholarship, and outreach programs.
A maximum mintage of 500,000 was in place for the offering. The final mintage for the coin reached 44,769 of the uncirculated version and 112,850 of the proof version.
Coin Specifications
Designer: Jim Licaretz (obverse), Richard Masters (reverse)
Weight: 26.7300 g
Composition: 90% Silver (0.7736 ounces of silver)
Diameter: 38.1 mm
Maximum Authorized Mintage: 500,000
2011-S Uncirculated Medal of Honor Silver Dollar
Pre-Issue Price: $54.95
Regular Price: $59.95
Final Mintage: 44,769
2011-P Proof Medal of Honor Silver Dollar
Pre-Issue Price:$49.95
Regular Price: $54.95
Final Mintage: 112,850
Other 2011 Medal of Honor Commemorative Coins